Auburn offer 'dream come true' for in-state DB Jacorious Hart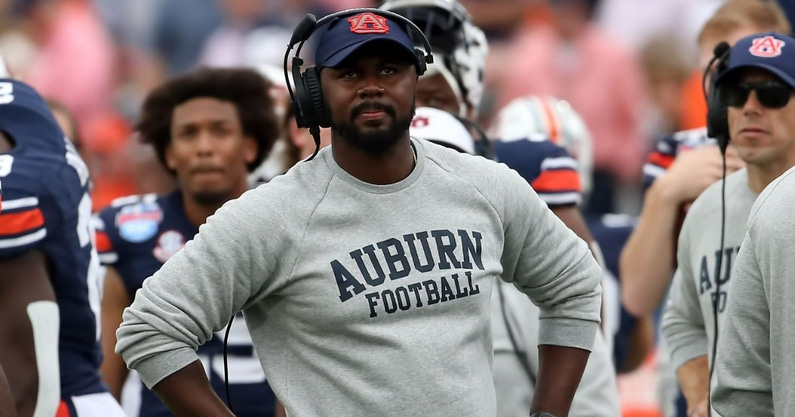 When Auburn Live interviewed cornerback Jacorious Hart of Loachapoka (Ala.) on Sunday, the unheralded recruit said an offer from Auburn "would be very big" should it come.
Tuesday, it came.
The Tigers offered Hart while he was on a quick unofficial visit to the school.
"Dream come true," Hart said. "It wasn't really a visit. It was more of a meeting but I went this morning and they offered me."
Moments later, he Tweeted this out: "Extremely blessed to earn an SEC offer from Auburn University."
What could this mean for Hart's recruitment? More on that in a moment.
First, some back story.
Hart was really fast at an Auburn camp earlier this month
Hart, who is listed at 6-foot-2 and 180 pounds, recently shined during a prospect camp at Auburn. That day, he posted a personal-best time of 4.37 seconds in the 40-yard dash.
In recent weeks, he also has picked up offers from programs such as Mississippi State, Missouri and UCF.  Hart camped at UCF last weekend and ran the 40 in 4.39 seconds.
All told, the unrated corner from Loachapoka (Ala.) has 22 offers.
***AUBURN RECRUITING LINKS***
–EYES ON AUBURN: AU's defensive line recruiting is heating up
-WAR ROOM: Growing confidence at Auburn in top RB target, other intel from recruiting weekend that was
Official visit recap: Reviewing a busy weekend in Auburn
Sunday, Hart informed Auburn Live he was returning to Auburn this week. With Auburn, Hart has talked primarily with two people. Secondary coach Zac Etheridge is one. Director of Football and Player Relations Trovon Reed is another. Both are former Tiger players.
"(Etheridge) is cool," Hart said. "I know most of them. I've been communicating with them for over a year. I like Trovon."
No schools stood out yet for Hart prior to Tuesday's offer
Sunday, Hart claimed to have no leader. He hasn't yet taken any official visits. But he made it clear at that time an Auburn offer could be a game-changer in his recruitment. According to Hart, he grew up a die-hard Tigers fan.
"It would be very big," Hart said Sunday. "I'd be really interested. Right now, I'm not too concerned with getting it. I used to really want that offer. Now, I don't need it, but I still want it. I don't know how (an offer would impact his recruitment). I'd have to take an official."
Hart, who is trying to graduate in December so he can be an early enrollee, had wanted to announce a commitment in early August but now has no set timeframe. He'd like to check out more schools, take some official visits.
Could Tuesday's offer from Auburn speed up his commitment schedule?
We wouldn't rule it out.