Auburn ranked No. 2 in latest AP college basketball poll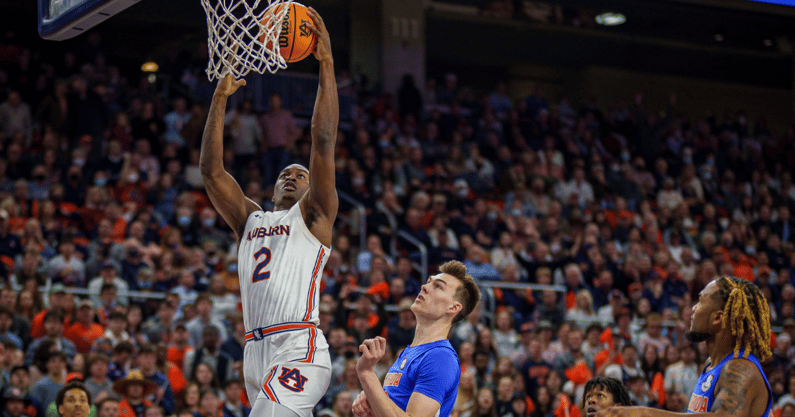 AUBURN – The new AP college basketball poll was released on Monday, and Auburn landed at the No. 2 spot for the fourth time in school history.
Auburn sits at 15-1 overall, and 5-0 in SEC play. It's the Tigers first 5-0 start in SEC play since 1999. In the last three AP polls, Auburn has risen from No. 9, to No. 4, and now to No. 2. Gonzaga reclaims the No. 1 spot.
Auburn received 1,482 total points to Gonzaga's 1,486 total points. Auburn received 36 first-place votes to Gonzaga's 25.
The 15-1 start is one of the best of Bruce Pearl's career. In 2019-20, the Tigers started 15-0 before losing two straight games, but then reeled off seven more straight wins to move to 22-2. In 2007-08, Pearl's Tennessee team started 16-1 before losing to Kentucky, and then reeled off nine more straight to reach 25-2 and a No. 1 ranking. It's the only time Pearl has seen his team ranked No. 1, as Tennessee immediately lost the next week and never returned to the top spot.
In the history of the AP poll, Auburn has reached No. 2 three times. The 1958-59 team reached second and finished eighth in the AP poll with a 20-2 record. The 1998-1999 team reached No. 2, but lost in the Sweet Sixteen. That team finished 29-4. The following season, Auburn started the season ranked fourth and reached No. 2, before faltering down the stretch and losing in the second round of the NCAA Tournament. That team finished 24-10 and ranked 24th.
Auburn has never been ranked No. 1 in the AP poll. Under Pearl, the Tigers have been ranked inside the top ten at some point during four of the last five seasons. But, No. 1 still evades the Auburn basketball program. That could come to an end on Monday. It's important because of just how far this basketball program has come. Following the 1999-2000 season, Auburn only enjoyed four winning seasons for the next 16 years. And 17 seasons have separated NCAA Tournament appearances before Pearl's regular season SEC champions in 2017-18 made the tournament as a No. 4 seed.
"It is historic. It does matter, and it does mean something," Pearl said. "That'll be a proud moment for Auburn. Period. Our university, our athletic department. I understand it may not mean much now, but it makes a strong statement. We want to have the number one business school, the number one engineering school. We want the number one football team, gymnastics team. We're an everything school."
Auburn will play two home games this week: Georgia on Wednesday at 8 pm CT, and Kentucky on Saturday at Noon CT. The Georgia game will be televised on SEC Network, while the Kentucky game will be televised on CBS.
[Roundball Roundup: The week that was, the week ahead, weekly standout, Tigers in the rankings]