Class of 2024 No. 4 PG Tahaad Pettiford commits to Auburn: 'Auburn is my 2nd home'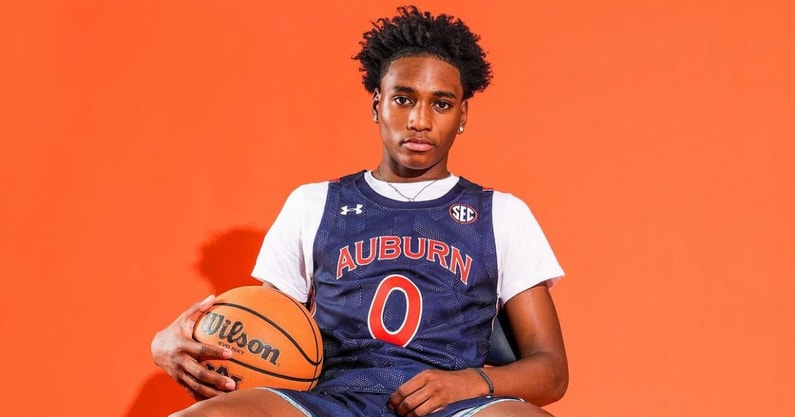 Tahaad Pettiford, the No. 4 point guard and No. 27 overall recruit in the 2024 class, has committed to Auburn.
Pettiford, from Jersey City, N.J., announced his decision on Wednesday. He chose Auburn over his other finalists: UConn, Kansas, Kentucky, Ole Miss, UCLA and Seton Hall.
And for Pettiford, it wasn't a difficult decision, especially after an official visit back in September.
"Auburn is my second home," he told Auburn Live. "It's the only school I took an official visit to and as soon as I got on campus, the fans and the atmosphere, everything around me felt like I was meant to be there."
Relationships big factor for Pettiford
Assistant coach Ira Bowman played a big role in Pettiford's decision. Bowman, who recruits New Jersey for Auburn, built a strong bond with Pettiford, yes, but he didn't stop there. Bowman also developed relationships with Pettiford's parents.
It didn't go unnoticed.
"Me and Coach Ira built a great relationship throughout my recruitment," Pettiford said. "But he also built a great connection with my dad, as well as my mom. Things like that are what I also took into consideration. Not a lot of coaches checked up on my mom or my dad. They only checked up on me. Coach Ira was worried about me and my family overall. He always made sure that everyone was good and everyone was safe. That's one thing I really liked about him."
Pettiford said Bruce Pearl also was a major factor.
"He's such a great coach," Pettiford said. "He's a great guy off and on the court. I feel like me and him are alike, our personalities. We both like to smile a lot. He's a really happy dude, but he knows when to turn it on and off when it's time to get ready for a game. He's going to be there to coach me, but off the court we have that cool connection. He's somebody that I can speak to anytime and not just about basketball."
4-star PG working on 4-star CG
Pettiford is Auburn's second commitment in the '24 class. He joins four-star center Peyton Marshall, who committed to the Tigers in December.
Auburn also could add to its class on Friday when four-star combo guard Labaron Philon announces his decision. Pettiford is working to get Philon to join him in the class.
"We are working on having the best class in the country," he said. "Labaron, that is who we're really working on right now. I was talking to him recently and I hope we can pull him soon."