It's elimination Tuesday as Auburn faces Arkansas at the College World Series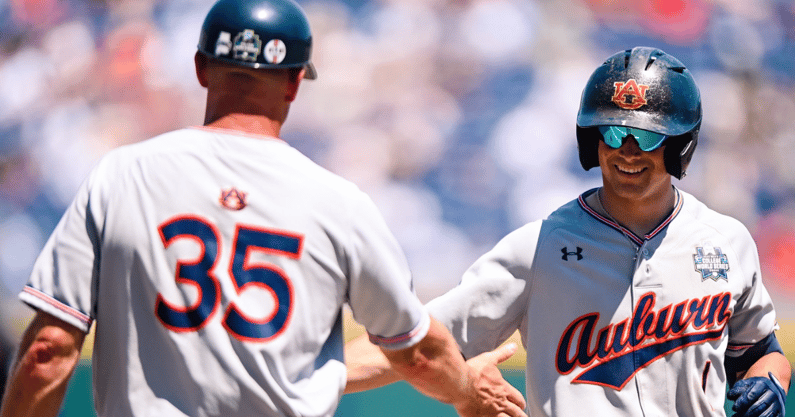 If Auburn baseball is going to make the College World Series final, it's do-or-die for the next three days.
After falling to Ole Miss in the opener 5-1, and defeating 2-seed Stanford on Monday afternoon, 6-2, the journey continues on Tuesday night at 6 p.m. CT against SEC West foe Arkansas. The Razorbacks defeated 2-seed Stanford 17-2 in their opener before falling to Ole Miss 13-5 on Monday night.
JOIN AUBURN LIVE: One year for $1
Let's talk about this pitching matchup.
Auburn will start Mason Barnett (3-2, 3.98) against Arkansas' Will McEntire (1-2, 2.81). Both Barnett and McEntire had decent outings in the series between these two teams at Plainsman Park in May.
Barnett's final line in Auburn's Friday night loss was: 4 IP, 5H, 2ER, 2BB, 5K. The Tigers held a 6-2 lead after five innings, but Arkansas crushed relievers Carson Skipper and Konner Copeland to the tune of nine earned runs, as Auburn lost their lead and the game, 11-8.
McEntire's final line in Arkansas' Sunday afternoon win was: 3.1 IP, 3H, ER, 0BB, 4K. Auburn never got the bats going that day, falling 7-4 in the series finale.
Auburn won the middle game of the series, 5-3. If not for a massive bullpen malfunction, the Tigers would have taken the first two games of the series.
The big question will revolve around the bullpen, as it does this time of year, and at this point of the CWS. Arkansas used five pitchers against Ole Miss, while Auburn has done a decent job of saving their bullpen through two games.
Butch Thompson would like to save Carson Skipper for a potential start on Wednesday night, allowing him to start Joseph Gonzalez again on Thursday night, if Auburn makes it that far. After Barnett, that leaves Tommy Sheehan (who only pitched 1.2 innings against Stanford), maybe Blake Burkhalter at the end of the game after 2.1 innings against Stanford, and likely pitchers Chase Allsup, Chase Isbell and John Armstrong in middle relief. All three haven't seen action yet in Omaha.
When you get into game three and beyond in Omaha, the games become about rarely-used arms stepping up and offense taking advantage of depleted bullpens. During the May series, Auburn scored 8, 5 and 4 runs against Arkansas, while giving up 11, 3 and 7.
Auburn's pitching has been unreal in the College World Series, with more strikeouts (29) than any other team in Omaha, the second-fewest walks (3) and second-fewest runs (7) allowed through two games.
In fact, the Auburn pitching staff has 653 strikeouts this season. That's a new program record, beating the 629 mark set by the 1997 team.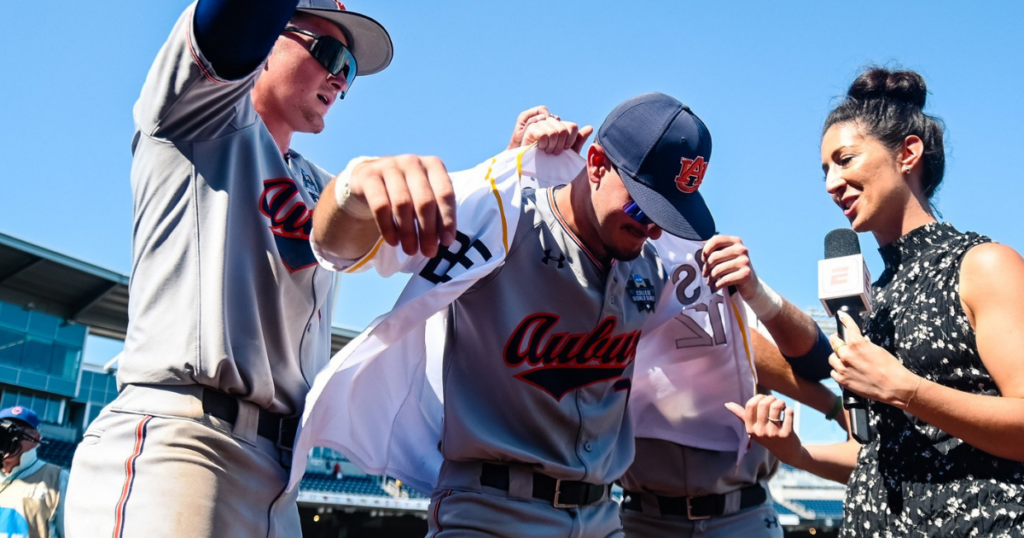 Who needs to step up for Auburn?
All-American Sonny DiChiara is 1-for-8 in the CWS with four strikeouts. Credit Ole Miss and Stanford for pitching DiChiara well. The book is out on Auburn's best hitter. DiChiara isn't going to see many fastballs, if any. He will see sliders outside and changeups, with the levels being mixed up nicely. Teams just aren't going to challenge DiChiara, so he's going to have to be that much better at looking for balls and strikes. Auburn showed they could win a big game with DiChiara silent at the plate, but that's not a recipe for success long term.
The other is Blake Rambusch. He only had four hits in his last 25 at bats before getting two hits against Stanford. Rambusch was on base in two straight innings in the middle of the game on Monday and scored both times. When Rambusch scores at least two runs, Auburn is undefeated this season.
Let's be real: Auburn likely can't make the CWS final, and certainly won't win two of three, if DiChiara and Rambusch aren't making things happen. Everybody else in Auburn's lineup is capable of stepping up in certain situations, but those two are the most consistent at creating opportunities for Auburn to score runs.
And then of course, there's Barnett. The junior was outstanding against UCLA in the Auburn Regional finale, and was really good at Oregon State in the Super Regional as well. When Barnett's control is on, he's really good. He'll need to be really good again against Arkansas. The Auburn offense is taking a few innings to ramp up, and if they're going to make a run, the bullpen can't be into this game in the third inning.
Auburn's team leaders
Batting Average: SR IF Sonny DiChiara (.381)
Runs: SR IF Sonny DiChiara (59)
2B: SR OF Kason Howell (19)
HR: SR IF Sonny DiChiara (22)
RBI: SR IF Sonny DiChiara (59)
Stolen Bases: R-JR IF Blake Rambusch (16-21)
Arkansas' team leaders
Batting Average: GR C Michael Turner (.318)
Runs: SO IF Cayden Wallace (60)
2B: Two tied (18)
HR: SO IF Cayden Wallace (16)
RBI: SO IF Cayden Wallace (60)
Stolen Bases: SO IF Cayden Wallace (10-11)
Quick hitters
Monday's win marked Auburn's first win in the College World Series since 1997.
It marked the Tigers 22nd come-from-behind win this season.
Trace Bright earned the win and struck out a College World Series record eight batters.
Cole Foster went 2-for-3 with a go-ahead, bases-clearing double in the sixth.
The Tigers' bullpen has a 1.80 ERA with 37 strikeouts in 25.0 innings in the last five games.
Auburn is one of six programs to appear in two of the last three College World Series, joining Arkansas, Mississippi State, Stanford, Texas and Vanderbilt on the short list.
Butch Thompson is one of five active SEC coaches who have taken their program to a pair of College World Series in a three-season span, joining Tim Corbin (Vanderbilt), Chris Lemonis (Mississippi State), Kevin O'Sullivan (Florida) and Dave Van Horn (Arkansas).
To get here, the Tigers became the first team to defeat Oregon State in a home super regional.
In 2019, Auburn became the first program to defeat North Carolina in Chapel Hill Super Regional and is the only program to win two road super regionals in the last three tournaments.
The Tigers outscored Southeastern, Florida State and UCLA 51-18 in three games in the Auburn Regional, marking the most runs by a SEC team in the first three games of a regional.
Series history
Arkansas leads the all-time series 50-49. On a neutral field, Auburn leads the series 5-4.