Football Insider: Jeff Schmedding promotion expected, Derek Mason intel and more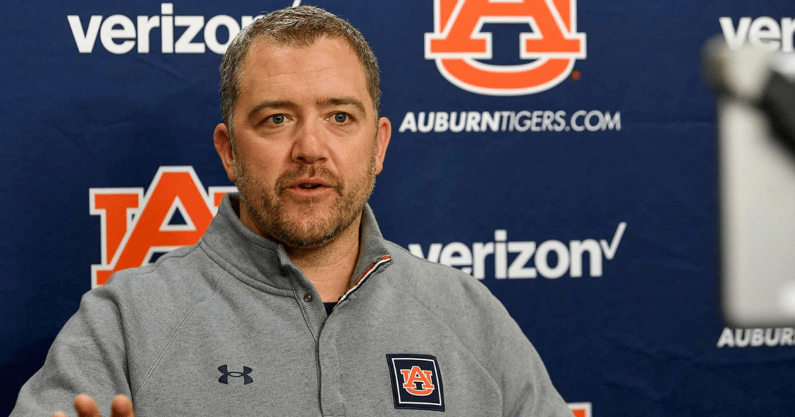 AUBURN – With the news of Jimmy Brumbaugh expecting to be hired as Auburn's defensive line coach, the Tigers' staff is undergoing some changes.
Brumbaugh replaces the departed Nick Eason, who left for his alma mater.
The other big news Auburn Live can confirm is that defensive coordinator Derek Mason is on his way out. The exact reasons are unknown, but Mason is not expected to continue on Auburn's staff.
Auburn Live has confirmed that Jeff Schmedding will take over as defensive coordinator, with ex-Florida linebacker coach Christian Robinson taking over coaching the inside linebackers. Bert Watts will coach outside linebackers, and Zac Etheridge will coach the secondary.
On Mason, there are many rumors, many are unsubstantiated. What Auburn Live does believe from talking to people close to the program is that Mason jumped back into coaching after leaving Vanderbilt, and maybe the fit with Bryan Harsin just wasn't right. Mason is a stand-up individual who stayed on and helped the Tigers recruit down the stretch. Whether Mason ends up at Oklahoma State, the NFL, or wherever, this isn't a case of Mason simply deciding he doesn't want to be at Auburn. This is more a personal decision by Mason than anything directly reflecting on Harsin, the way I understand it.
On Schmedding, sources around the program are encouraged by this hire. They praise Schmedding for his ability to coach, and one source said, "he deserves it." Contrary to some rumors out there, Schmedding did not call the defensive game plan against Alabama. That was still Mason. But, it sounds like Schmedding is prepared to be a defensive coordinator and seems to have the support from his fellow defensive coaches.
And on Etheridge, there have been rumors, but Auburn Live is told that Etheridge isn't going anywhere. Are schools coming after him? Yes. But for now, Etheridge isn't believed to be leaving Auburn.
Brumbaugh has certainly been around the SEC and knows the ropes. You also add another former Auburn Tiger into the mix, which isn't a bad thing when you're recruiting and developing players. Schmedding gets his opportunity, and with the addition of Austin Davis on offense, now Harsin has full control on the offensive and defensive sides of the ball with what he wants his entire football team to play like. There shouldn't be any mistaking the overall strategy and plan for what complimentary football looks like for Auburn.
In the end, it appears Harsin will replace two coordinators with SEC experience with two coordinators with no SEC experience. We'll see how it works out, but there's no question, it's Harsin's way or the highway right now.