'Hugh was the best fit': Auburn, John Cohen hire Hugh Freeze as head football coach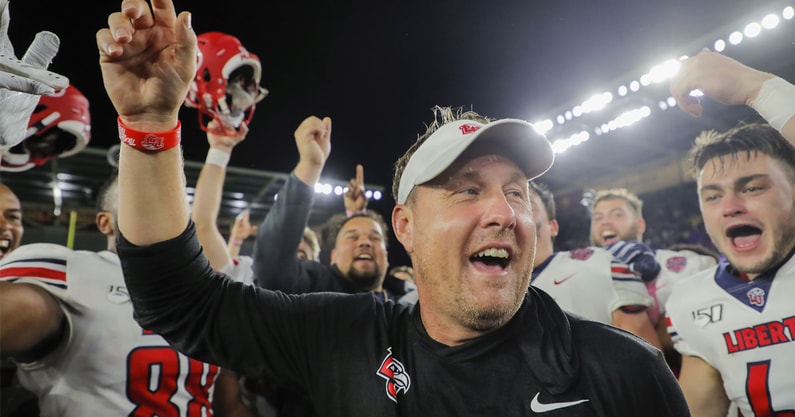 AUBURN — After an interesting four weeks, new Auburn athletics director John Cohen has selected Liberty's Hugh Freeze as the Tigers' next head football coach, sources tell Auburn Live.
The university made the hiring official on Monday evening.
"After a thoughtful, thorough, and well-vetted search, we ended where we started, with Hugh Freeze," Cohen said. "Of all the candidates we considered, Hugh was the best fit. Fit has several meanings, but the most important factors were student-athlete development, football strategy, recruiting and SEC experience."
Auburn's coaching staff was informed of the move earlier in the day on Monday, sources tell Auburn Live.
Auburn will owe Liberty around $3 million in buyout money. Freeze was in Auburn on Monday making the deal official with Auburn.
Expect interim head coach Carnell Williams to remain on staff and help bridge the gap with Freeze.
"First, I want to acknowledge Cadillac Williams for the incredible job he did as interim head coach. The impact he made is immeasurable and cannot be overstated," Freeze said.
"Secondly, Auburn is one of the preeminent programs in college football and I'm very appreciative of President Roberts and John Cohen for this opportunity at Auburn. I've been fortunate to witness first-hand how special Auburn is during my time as a head coach in the SEC and while visiting my daughter Jordan who attended Auburn and currently lives in the community. I can't wait to work with our student-athletes and the Auburn family to bring championships back to the Plains."
One prominent source within Auburn athletics told Auburn Live, "(Freeze) and Caddy would be a great team."
Auburn's new head football coach will return home and plan to be in Auburn on Friday to start recruiting after the dead period ends.
Freeze returns to the SEC after spending five seasons in the conference as Ole Miss' head coach from 2012-2016.
"I'm pleased that our Athletics Director John Cohen conducted a detailed and thorough national search process, and I look forward to welcoming Hugh and Jill Freeze to the Plains," President Christopher B. Roberts said. "I am impressed with Coach Freeze's focus on player development and his on-the-field success at multiple universities and at multiple levels."
---
This is what Auburn Live reported earlier in the day on Monday:
— There was some backing off of Liberty head coach Hugh Freeze on Saturday night and into Sunday. What we believe was going on were two things: 1. John Cohen continued to search for candidates that could create top-to-bottom alignment. 2. Auburn continued to maintain communication with Freeze, going through any last-minute questions, concerns, logistics, ways to answer questions regarding his past, you name it.
— Auburn Live can confirm that Auburn University has been in contact with Liberty over the last 24-48 hours making sure there is no stone unturned as it relates to Hugh and the sexual assault case that is currently ongoing against Liberty University.
— Sources tell Auburn Live that this was additional due diligence on Auburn's part after previously conducting a full background search on Freeze and working with Liberty regarding any and all documentation desired.
— If Hugh is hired and no other snags are hit, I'd expect him to be in Auburn later this week meeting with influential people. I'd anticipate one of Freeze's (or whoever the next head coach is) first orders of business would be understanding the state of Auburn's NIL collective and what the "war chest" looks like to immediately hit the transfer portal.
---
Cohen knows Freeze well. Auburn's new AD was Mississippi State's baseball coach from 2009-2016, the same time Freeze was the head football coach at Ole Miss. Cohen's first year as AD at Mississippi State was 2016, which was Freeze's final season in Oxford.
During the coaching search, Cohen said X's and O's, recruiting and "fit" were three of the most important factors in making the hire. The hiring of the former Ole Miss and Liberty head coach is Cohen's first major decision as athletics director at Auburn.
Throughout the process, multiple sources described Freeze as an "uncomfortable" potential hire for Cohen and Roberts because of Freeze's background of NCAA violations and indiscretions that led to his firing. But in the end, Freeze landed the job not only because of his coaching resume, but because of his ability to start at Auburn right away. It's also worth nothing that Freeze always had the backing of key Auburn boosters.
He will inherit an Auburn program that's won just 11 games in the last two seasons, including only four conference games in 16 chances.
The NCAA Transfer Portal opens up on December 5. Evaluating Auburn's roster and understanding needs will be paramount to Freeze, as will be figuring out a coaching staff. There's no time to waste in order to make the Tigers highly competitive heading into next season.
Born in Oxford, Miss., Freeze attended Southern Mississippi before starting his coaching career at Briarcrest High School in Memphis, Tenn. Ole Miss, Arkansas State and Liberty are the only three major college programs Freeze has held coaching positions at during his career.
The 411 on Hugh Freeze
Now in his fourth season as head coach at Liberty, Freeze, known for his innovative offenses, is 34-14 with the Flames and has three bowl appearances. Prior to that, Freeze spent five seasons at Ole Miss, where he had a good amount of success before running afoul with the NCAA.
In fact, the Rebels actually beat Alabama in back-to-back years (2014, '15) as Freeze became only the third college coach to beat Nick Saban in consecutive seasons. In  2016, the NCAA charged Ole Miss with several recruiting violations and Freeze later was forced to resign.
On the field, Ole Miss went 39–25 under his watch. But the Rebels had to vacate 27 of those wins, making his official record 12–25. Prior to coaching at Ole Miss, Freeze went 10-2 in one season at Arkansas State and 20–5 at NAIA Lambuth. Additionally, he spent 10 years as head coach at Briarcrest Christian in Memphis, Tenn.
Freeze brings offensive prowess, personality and SEC knowledge to the Plains.