Morning reads: Where will Julian Phillips land? Plus, Auburn baseball talk, NIL and more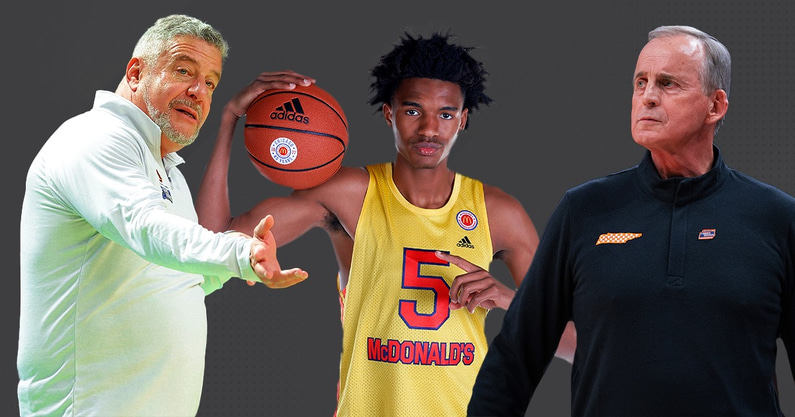 Good morning, Auburn fans, and welcome to the Morning Reads. Every day, we'll cover news, notes and analysis from across Tigers' athletics, and the sporing world. Join us each morning to get caught up on everything you missed in the world of Auburn football, recruiting, basketball, baseball and much more in Morning Reads.
Are you subscribed to Auburn Live yet?
Are you ready to get all your latest Auburn news in one place? Become a member of Auburn Live today. With your Auburn Live/On3+ membership, you'll not only have access to the everything that's happening with the Tigers, but you'll also be able to peruse other fan sites within the network to hear just how rivals are feeling about Auburn, as well. Make sure to follow along on Twitter.
Where will Julian Phillips land?
Jeffrey Lee has provided as much information as available on five-star Julian Phillips and his upcoming decision.
It's Tennessee, Auburn or G League for Julian Phillips, who will make his announcement at 2 p.m. CT on Thursday afternoon. Be locked into Auburn Live for the news.
This is a tough one to call. My gut feeling is that Phillips feels the love at Auburn. The coaches and even current players have recruited him and made sure he knows he's wanted. That hasn't always been the case with his recruitment to Tennessee.
Julian Phillips once was thought to be headed to Florida State before he committed to LSU. He was also thought to be headed to Tennessee at one point, then Auburn got heavily involved. Now, there's G League talk. That should tell you something about what Phillips is possibly looking for in terms of NIL opportunities. We will see how he and his camp weighs all the options, and what decision is ultimately made.
If Auburn is the selection, then it's very possible Phillips left some NIL money on the table, as Tennessee is believed to have made the most lucrative offer of the two college programs. If it's Tennessee, then that answers that question. And if it's the G League, then that really answers that question.
Auburn will host a Regional, if they take care of business
Both D1Baseball and Baseball America project Auburn to host a Regional, as of right now.
The Tigers are a No. 8 national seed according to D1, and a No. 9 national seed according to BA. If Auburn takes care of business against Alabama and Kentucky to end the season, there's nothing that should happen in the SEC Tournament that would impact the Tigers' chances of hosting a Regional.
Bryan Harsin takes in the Regions Tradition
Bryan Harsin seemed to make good impressions all the way around at the Regions Tradition in Birmingham on Wednesday. I spoke to a few people at the event that were around Harsin that came away with really good impressions of how Harsin handled himself and the fans. All in all, good day for the Auburn coach.
Jimbo Fisher gives defiant response on handling NIL
Texas A&M head coach Jimbo Fisher has been in the NIL crosshairs of many members of the media and college football fans across the country for the past few months. Ever since the Aggies landed the nation's No. 1 overall ranked class in 2022, plenty of people have charged that the Aggie head coach was luring prospects to College Station with NIL money. On Wednesday, he once again denied any sort of wrongdoing.
"I haven't changed a dadgum thing," Fisher said. Plenty of people still won't believe him, since the Aggies landed the greatest recruiting class in college football history during the 2022 cycle.
Fisher goes on to talk about NIL the transfer portal, and other topics.
$50,000 for each Power 5 player?
Blake Lawrence, a co-founder of OpenDorse, a company that helps facilitate endorsement deals for professional athletes, has predicted that each Power 5 football and basketball player can expect to make at least $50,000 in NIL deals "because of the influx of cash from so-called booster." Lawrence is basing his prediction on the assumption that booster collectives are directing an annual sum of $5 million into NIL pools.
Lawrence said that major five-star recruit could be in store for potential NIL deals north of $1 million per year when money coming from sources outside the booster collective is considered, depending on the position of the player, especially in football. Four-star recruits could earn well into the six figures, but it will be the less coveted recruits that earn in the $50,000 ballpark, "because the booster collective will make sure of it to keep peace on the team," Lawrence said.
Dark horse contenders for the College Football Playoff
CBS Sports wrote about the top dark horse contenders from each conference that could make a run at the College Football Playoff.
To limit the scope of "dark horse" teams, we're excluding the 14 teams with 50-1 or better odds, including Alabama, Notre Dame, Utah and a number of other options. Don't worry, that still leaves more than 50 teams jockeying for position to overcome the odds and play for the national championship at season's end.
Arkansas was the pick for the SEC, citing their 9-4 season and returning quarterback K.J. Jefferson. I'll say, Treylon Burks is going to be awfully hard to replace considering the Razorbacks didn't have that dynamic of a passing offensive in the first place. We shall see, but Arkansas has certainly become a rise up and surprise people, along with Ole Miss.