OL Drew Bobo commits to Auburn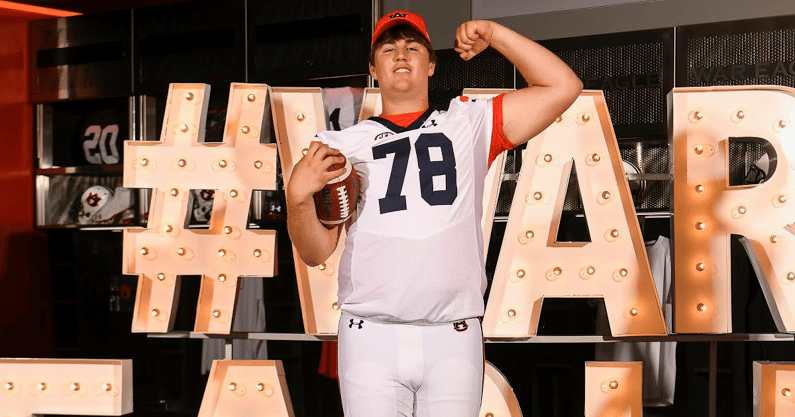 Drew Bobo is staying home.
Bobo, an offensive lineman at Auburn High, will play his college ball at Auburn University, he announced Sunday on Twitter.
Bobo chose Auburn over his other two finalists, Georgia and Kentucky.
"Ever since I moved to Auburn, I have really liked the town," Bobo said. "And then going to my first game as a recruit at Jordan-Hare (Auburn vs. Akron on Sept. 4), it was a cool experience and I really loved the environment."
Bobo family ties at Auburn, Prayer at Jordan-Hare
Having his father, Mike Bobo, as Auburn's offensive coordinator didn't hurt. However, it didn't help as much as some might think.
"My dad told me not to pick a place because of him, but to pick a place based on where I could see myself in college," Drew Bobo said. "And I can definitely see myself in college at Auburn."
It hasn't always been that way. Bobo grew up with his father at Georgia. He attended many of the Bulldogs' home and away games as a child, including Auburn's miraculous win over Georgia in 2013.
Bobo remembers vividly that November night at Auburn.
"My first ever game at Auburn was the Prayer at Jordan-Hare when I was about 10 years old," Bobo said. "After Auburn scored on the tipped pass, I was in the stands crying. My dad was coaching at Georgia then and he said he saw me in the stands with my head in my hands crying. I remember Auburn scoring and how loud the crowd got. It was really loud."
Drew Bobo's transition from recruit to recruiter
Bobo now is looking forward to being on the other side of the rivalry.
"It feels really good," he said. "I'm glad to be done with my recruitment and not have to go through it anymore. It feels great knowing where I'm going and knowing that I'm going to Auburn."
Bobo's next goal is to get as many top recruits to join him in Auburn's 2022 class. That includes teammate and close friend, Eston "EJ" Harris.
"I'll start helping," Bobo said. "I've already talked to EJ about it and I'll get started on other recruits as soon as possible."
Bobo is Auburn's 12th commitment in the 2022 class and first offensive lineman. He could project at several spots along the line.
"Auburn said it will probably be more interior," Bobo said. "But that I have the ability to play any position they need me to."