Stair-stepping the program: Takeaways from Butch Thompson following Auburn's season-ending loss to Arkansas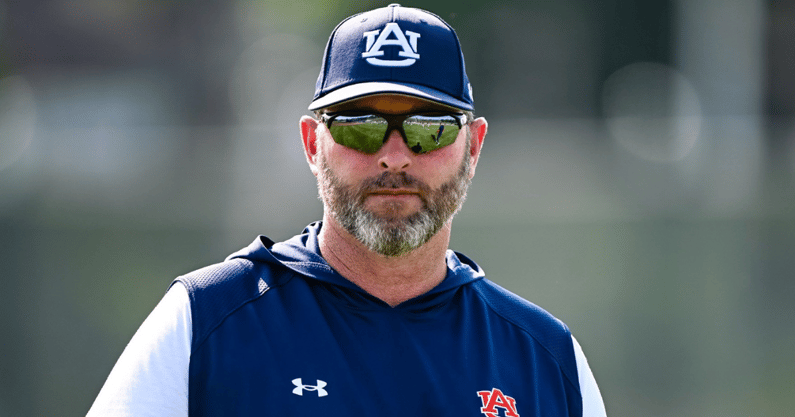 Auburn's surprising and successful baseball season has come to an end.
14-seed Auburn fell to Arkansas, 11-1, to end their College World Series run. The lone win in Omaha ties the 1997 squad with one CWS victory. The 1967 team is still the only Auburn team to win multiple CWS games, going 2-2 in Omaha. The 1976, 1994 and 2019 teams all went 0-2 at the CWS.
JOIN AUBURN LIVE: One year for $1
Butch Thompson talked about the loss, but more importantly, the program's standing, after Tuesday night's decision.
RELATED: The aftermath of Auburn's CWS loss to Arkansas
Senior leadership will be remembered
The Auburn baseball journey is now over for Kason Howell, Brody Moore, Carson Skipper, Brooks Fuller, Sonny DiChiara and Jordan Armstrong. Howell, Moore, Skipper and Fuller all experienced the College World Series twice, which is an incredible feat.
Thompson was asked postgame about his seniors and their importance.
"My first thought is an exceptional group of people that make up this baseball team. I enjoyed getting up every morning and being fortunate to be with this group," Thompson said.
"I thought they grew so much as men and ballplayers. They were a joy. You didn't have to do much to get them going or get them to bounce back. They had a resilient quality about them. A lot of these guys will move on and do some amazing things. This was one of the easiest groups to tell them a mission or challenge, and to go attack it."
It's hard to beat that. When you can talk about your players being relentless workers, and also easy to coach, that's quite the combination. That's a massive credit to the players, and a massive credit to Thompson, his coaching staff, and the culture they've built at Auburn. They've clearly recruited the right players at the right time.
State of the program?
Thompson was asked a pretty open-ended question about his thoughts on the state of the Auburn baseball program. He hesitated, then answered like this:
"We work hard every day and try to make the right decisions every day. It's such a competitive space, I'm not sure I'm the judge of that. I'm part of it. I can imagine every season, you need a minute after the season to evaluate. I absolutely know you can look at pen to paper from the time we've been here, see the growth and stair steps. There's people doing some amazing things that have left the program. I'm thankful for it. I'm part of it. I absolutely think we're on the cusp of doing amazing things consistently. That will be the driving force to leave this program in a better place."
That's a perfect Butch Thompson answer. He deflects the recognition to others, voices his thankfulness for the situation he's in, and focuses on consistency moving forward.
You have to think, after two trips to Omaha in the last four years, the ability for Auburn to attract even better high school players, and even better transfers, will be noticeable. There's no question the status of Auburn baseball is on the rise.
Support from the Auburn head coaches
Thompson was asked postgame about basketball coach Bruce Pearl attending the game in Omaha on Monday evening and this is how he answered:
"Bruce is one of our best ambassadors, but I hear from all of our coaches. I'd have to give Johnnie Harris a shoutout, too. I can't go down the list — it's the tightest group I've been a part of. I think it's top to bottom, across the board. That's meaningful to a coach. Our head coaches at Auburn, I tip my hat to them. Everybody on our campus has appreciated this team."
That's a dynamic that very few people understand. Every university and athletics program is likely different, but it's fascinating to hear about the relationships of head coaches on one campus. From listening, it sounds like athletics director Allen Greene is doing something right with the relationship between head coaches and the culture that's been built there.
You can almost trace it back to Pearl and Gus Malzahn attending the Women's College World Series when Auburn made their run to the final in 2016. Since then, Pearl has certainly been a staple at other sporting events, and has certainly been the ring leader of the "Everything School" mantra. Credit to all the head coaches for supporting each other's programs.