The aftermath: Auburn defeats Kentucky, extends winning streak to 15 games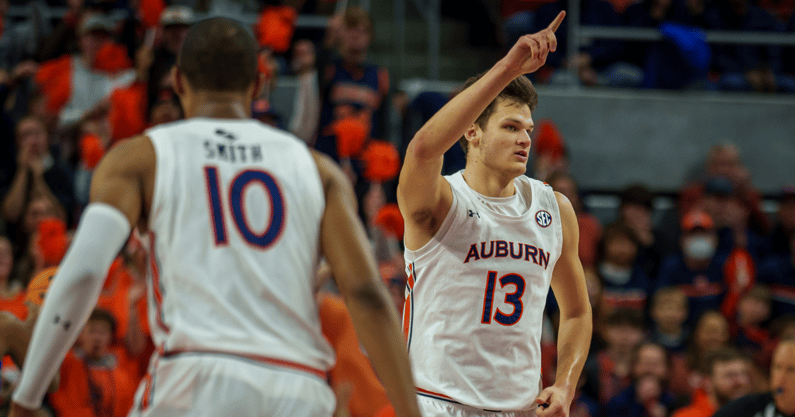 AUBURN – No. 2 Auburn put the best resume in the country on the line against No. 12 Kentucky and came out victorious.
Auburn won 80-71, improved their overall resume, and should absolutely be the nation's No. 1-ranked team when the new Associated Press poll is released on Monday. Auburn has won 15 straight games.
"It's hard to have high expectations be lived up to, but there's no question hat game lived up to everybody's expectations, Bruce Pearl said postgame. "That Kentucky team that was shorthanded, then (Sahvir) Wheeler bothered his ankle, for those guys to rally and out play us in the first half, tells you they are a championship team. 
"I think for us, it's the sum of our parts. If we're playing nine or ten guys, you have to account for all of them. We got great contributions from everybody. They did what they did. Jabari (Smith) made big shots and got rebounds. Walker (Kessler) was incredible at the rim and defensively. KD (Johnson) does what he does. He makes shots and plays defense. Zep (Jasper) works so hard. Allen (Flanigan) got downhill. Wendell (Green) with five assists and some big three balls. Dylan (Cardwell) didn't have one of his better games. Jaylin Williams was so productive in his time. He should play more. Devan Cambridge was so solid defensively."
The Tigers are off to a 7-0 SEC start for only the second time in program history matching a 7-0 start during the 1958-59 season, where the Tigers went 12-0 to start conference play.
The Tigers have won 15-consecutive at home, the sixth-longest home winning streak in program history and second longest in Auburn Arena history (19 from 2019-20).
In the all-time series with Kentucky, the Wildcats lead, 96-23. In the last 11 meetings, Auburn leads the series 6-5. The Tigers have now won five of the last six meetings in Auburn Arena.
[Game notes: Kentucky at Auburn]
One main takeaway: At this moment, Auburn is No. 1
Auburn moved up to No. 4 in the KenPom after the win over Kentucky. KenPom is a predictive ranking, but more importantly was the offensive and defensive efficiency rankings. Auburn is 9th in the nation in both categories – the only team in the nation to rank inside the top ten in both. Auburn's Quad 1 and 2 record was again made stronger, and starting the week only four points behind Gonzaga in the AP poll, Auburn is most assuredly going to be number one on Monday.
Take it in. For the moment, Auburn has the best basketball in the country. They've won 15 straight games and have started 7-0 on SEC play. Auburn's now in great position to win the regular season conference crown. Again, for this moment, Auburn has the best team, the best player (Jabari Smith) and the best atmosphere in college basketball. What a remarkable statement. Enjoy it.
Postgame notes
• For the fifth time this season, Auburn use the starting lineup of sophomore K.D. Johnson, senior Zep Jasper, junior Allen Flanigan, freshman Jabari Smith and sophomore Walker Kessler (5-0).
• With the win, Auburn claimed only its 23rd all-time victory in the all-time series with Kentucky. The Tigers have now won two of the last three meetings with the Wildcats.
• Auburn has now won 15 consecutive games, which is the longest win streak in the nation. AU also boasts the most victories in the country (18).
• The Tigers are 18-1 overall – the fourth best-start in program history behind 25-1 in 1998-99, 20-1 in 1927-28 and 19-0 in 1958-59. They are now 7-0 in SEC play for the second time in program history next to 1958-59.
• Auburn trailed at halftime for the fifth time this season and is now 4-1 in those games.
• Jabari Smith extended his double-digit scoring streak to 16 games with 14 points and seven rebounds against Kentucky.
• Wendell Green Jr. registered his 11th game in double figures with 11 points against Kentucky. He also dished out five assists.
• Walker Kessler is now on a three-game double-digit scoring streak reaching double figures with 11 of his game-high 19 points in the first half of play against Kentucky.
• For the fifth-straight SEC contest, K.D. Johnson tallied double digits with 17 points including 3-of-5 from beyond the arc against Kentucky.
• Auburn is now 3-1 against Top 25 opponents this season. It marked the program's 75th all-time victory over a ranked opponent in The Associated Press Poll. The Tigers are now 75-21 when ranked in the Bruce Pearl Era. They last beat a No. 12-ranked team last year against then No. 12 Missouri (W, 88-82) on Jan. 26, 2021.
• The Tigers shot a season-best 56.8 percent (25-of 44) against the Wildcats. They previously shot 53.6 from the field versus Florida on Jan. 8. It marked AU's fourth time in the last six games to shoot 50 percent from the floor against a SEC opponent.
• AU got fouled by UK on a 3-point shot three times in the ballgame.
• Auburn has now compiled 112 wins in the last five years. It is tied as the best five-year run in school history next to 2016-17 to 2020-21.
• The Tigers saw its 10th sellout crowd this season at Auburn Arena. It also marked the 50th all-time sellout crowd in Auburn Arena (2010-Present) history. They remain an undefeated 10-0 at home this season.
Taking care of the basketball
The turnovers were killing Auburn in the first half. Once the Tigers settled in and stopped wasting possessions, the momentum in the game changed. That was even before TyTy Washington was injured for Kentucky.
Auburn turned the ball over four times in the first five minutes. The Tigers turned it over eight times in the final 35 minutes of action.
"We stopped turning the ball over, did a better job of executing and spacing," Pearl said. "We weren't organized for stretches and came away with a lot of empty possessions. Give Kentucky credit. They bothered us. We made some adjustments, anticipated some of that, and then did a better job with the offense in front of my bench."
Part of that is Jasper, who committed no turnovers in 17 minutes of action at the point guard spot.
"He doesn't turn it over," said Pearl. "You look at how important assist to turnover ratio is. He's so solid defensively. He's so unselfish. Zep can score and every time he shoots, we think it'll go in. It hough about putting him int he last few minutes because he's so good defensively."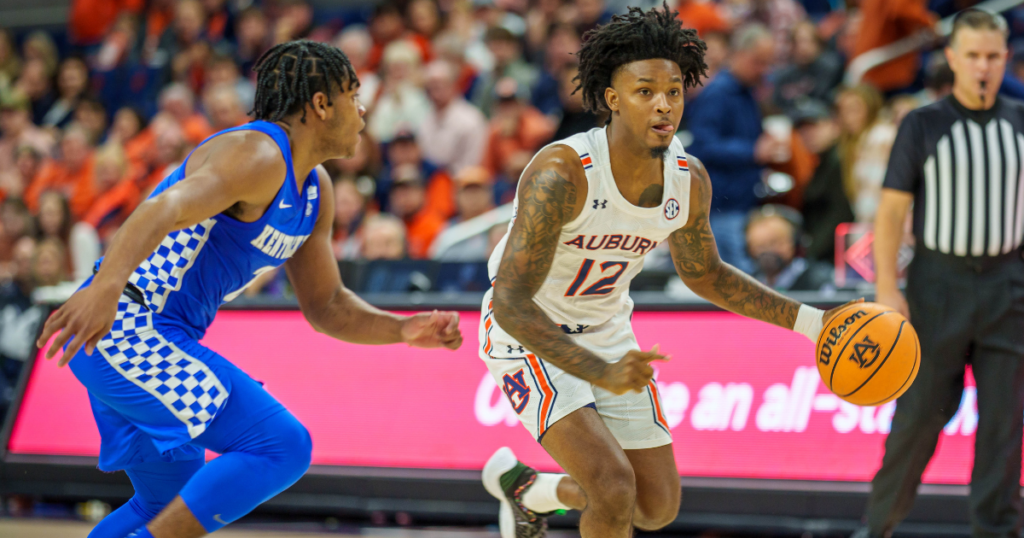 Early turnovers put Auburn in a big hole. Auburn got off to an uncharacteristic nervous start, but maybe that's understandable in this environment. The Tigers committed four turnovers in the first five minutes and found themselves trailing 19-9. In addition, Auburn was hammered in second-chance points, points in the paint, and points off turnovers in the first 10-15 minutes.
The Tigers' big three
Allen Flanigan, Jabari Smith and Walker Kessler kept Auburn in the game during the first half. Flanigan started hot, looking confident, scoring four early points. Then it was Smith, hitting back-to-back buckets and adding seven points. Finally, in the last eight minutes of the half, Kessler had four dunks and finished the half with 11 points. Those three, at different points, kept Auburn in shouting distance when the offense wasn't producing much.
Smith finished with 14 points and seven boards. Flanigan finished with eight points and four boards.
And Kessler was unstoppable. The pick-and-roll with Wendell Green was incredible to watch. Kessler finished with 19 points, six rebounds and two blocks. Oscar Tshiebwe is always going to get his rebounds, but Kessler won that overall matchup on the day. If Tshiebwe was the leader in the race to be player of the year in the SEC, Kessler made a statement. Tshiebwe finished with 16 points and 14 rebounds, but Kessler's consistency scoring within the offense was a big difference.
"The game plan was we all have to box out, not just the five and the four. We did a really good job of that. As far as battling down low, you aren't kidding. He's a big, strong dude. It was a lot of fun down there," Kessler said.
Smith, Kessler and Flanigan accounted for 18 rebounds. That would have stacked up nicely by itself against Kentucky's team total of 26.
"Jabari with seven, Walker with five, Allen with four. They led us," Pearl said of their rebounding." Jabari got some big boy rebounds. Walker really competed. Tshiebwe got his number, but the others didn't. That's why we out-rebounded the number one rebounding team in the country.
"There are times when we have number 10 and you don't. It was time for him to step up and make some big shots. Jabari knows, because he holds himself to a high standard. When it gets to nut-cutting time, he ain't afraid."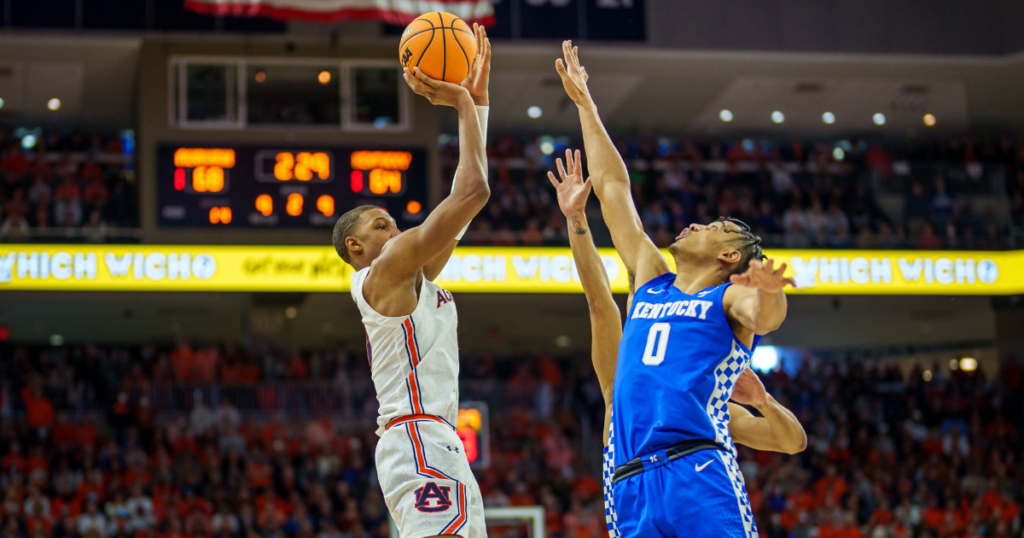 Auburn's spark plugs
Wendell Green Jr. struggled in the first half mightily, but seemed to find his speed in the second. Green scored zero points and generally struggled to get the offense going against the defense of Sahvir Wheeler. But, in the second half, Green found his confidence and his shot. He finished with 11 points and five assists, all in the second half, and was an important catalyst for the Auburn offense.
"Props to our guards. They're such good facilitators," Kessler said. "As we got going, like any game, it started opening up.
K.D. Johnson's energy is like nothing I've ever seen. Actually, I have seen it before. The only athlete with energy and passion as infectious as Johnson's is Cam Newton. Johnson simply elevates a team and an environment. Johnson finished with 14 points on 4-6 shooting. Again, he lifted everyone's spirits and was a catalyst for the comeback.
"We got our flow going back. When I see us clicking, when one man is clicking,' were going to pick it up," Johnson said.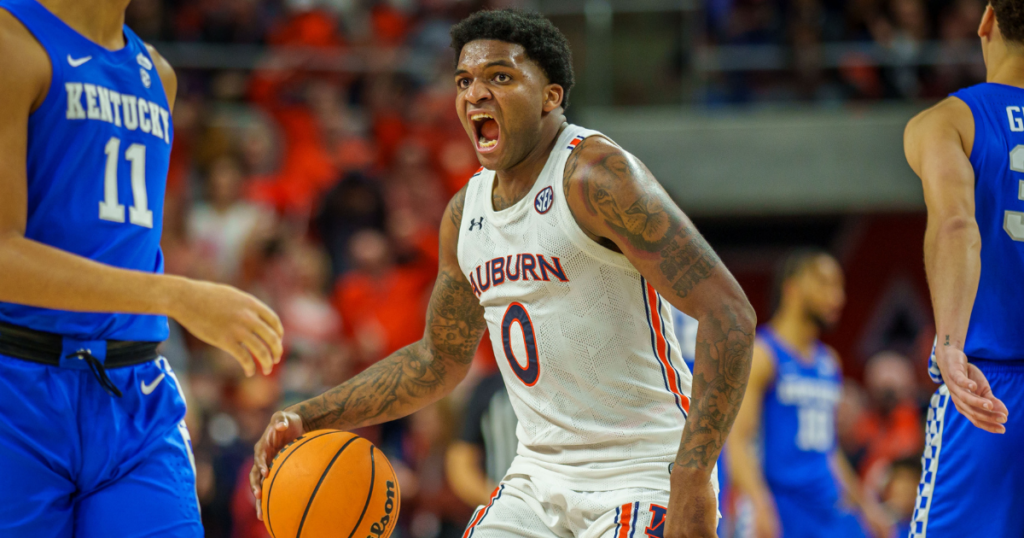 Other takeaways
I thought Auburn's three-point shooting was where this team needs to be. They shot 6-16 for the game. For this Auburn team, that's a good number for three-point attempts, and a decent number of makes.
Auburn shot 21-23 from the foul line in the second half. That, combined with the improved offensive execution, is why Auburn scored 51 points in the second half and only 29 in the first half. The Tigers woke up.
Stats + analytics