The aftermath: Auburn's College World Series run ends after disappointing loss to Arkansas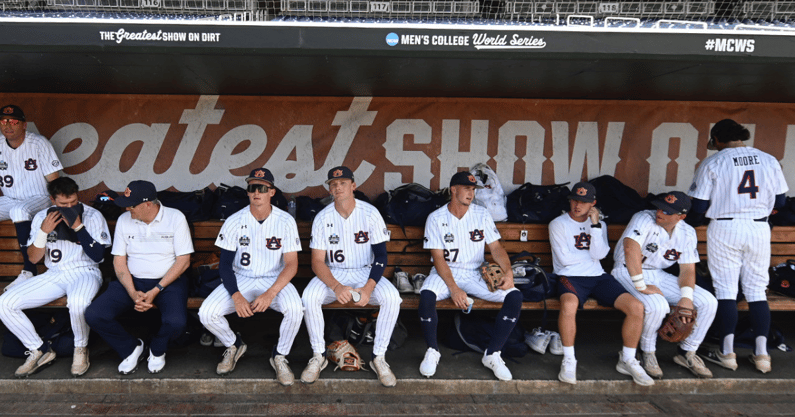 The Auburn baseball season came to an end on Tuesday night in what can only be described as a frustrating and lackluster performance.
Arkansas beat Auburn 11-1 in an elimination game, moving their record against the Tigers to 3-1 on the season. The Tigers end the season having played College World Series participants Stanford, Oklahoma, Arkansas, Ole Miss and Texas A&M at different points of the season, finishing with a 5-8 record against the five opponents.
JOIN AUBURN LIVE: One year for $1
Auburn finishes with 43 wins, tying the 2018 and 2010 teams for the most wins in a season since the 1999 team won 46 games. The Tigers also finish the season having not lost more than two games in a row once all season.
Mason Barnett pitched well, but was plagued by one official error by Blake Rambusch, another ball lost in the sun by Mike Bello in left field, and two separate should-have-been strikeouts as the home plate umpire didn't give Barnett the call. It resulted in a walk and a 2-RBI double after both incidents. It just wasn't Barnett's night, as his final line was 2.2 IP, 5 H, 4 R, BB, 4 K and 77 total pitches. The Arkansas hitters were patient and ran Barnett's pitch count up early and often.
Freshman John Armstrong relieved Barnett and that's when things really got out of hand. Armstrong finished with 1 IP, 4 H and 4 R, allowing three extra-base hits and a home run.
Carson Skipper, Chase Isbell, Chase Allsup, Carson Swilling and Brooks Fuller all pitched in relief, giving Auburn seven pitchers on the night. The seven-man group tallied 13 strikeouts on the night, but that didn't mean much combined with 16 H, 11 R 6 extra-base hits and 5 BB.
Arkansas first baseman Peyton Stovall was the star of the show at the plate with five hits – the most by a hitter in Men's College World Series history. Michael Turner and Chris Lanzilli added three hits each.
Meanwhile, the Auburn offense continued their disappearing act in Omaha.
Three hits and one solo home run by Bobby Peirce is all the Tigers could muster. That's after four hits and one run against Ole Miss in the CWS opener. Auburn's two SEC West foes completely shut down the Tigers' offense. Even against Stanford, all six runs for Auburn came in the sixth and seventh innings.
Arkansas starter Will McEntire was phenomenal. McEntire's final line: 7 IP, 3 H, ER, BB, 9 K in 99 total pitches. McEntire's pitch count and strikeouts were both career highs. That's 10.1 IP against the Tigers this season, allowing 6 H, 2 ER, BB and 13 K.
Breaking down the scoring
| Team | Inn | Scoring Dec. | Play | Batter | Pitcher | Outs |
| --- | --- | --- | --- | --- | --- | --- |
| | Top 1 | 1B 8 1RBI | Stovall singled to center field, RBI (3-2 BSBSB); Webb scored. | Stovall | Barnett | 0 |
| | Top 3 | 1B RS 1RBI | Lanzilli singled through the right side, RBI (0-2 KK); Turner advanced to second; Stovall scored. | Lanzilli | Barnett | 2 |
| | Top 3 | 2B LL 2RBI | Moore doubled down the lf line, 2 RBI (3-2 BKFFBB); Lanzilli scored; Turner scored. | Moore | Barnett | 2 |
| | Top 4 | 2B 9 2RBI | Turner doubled to right field, 2 RBI (1-0 B); Stovall scored; Webb scored. | Turner | Jh Armstrong | 2 |
| | Top 4 | HR LL 2RBI | Lanzilli homered down the lf line, 2 RBI (0-0); Turner scored. | Lanzilli | Jh Armstrong | 2 |
| | Top 6 | 1B MI 1RBI | Turner singled up the middle, RBI (0-1 K); Wallace scored. | Turner | Skipper | 2 |
| | Bot 7 | HR LL 1RBI | Peirce homered down the lf line, RBI (2-0 BB). | Peirce | McEntire | 0 |
| | Top 9 | 1B 9 2RBI | Stovall singled to right field, 2 RBI (3-2 BSBSB); Webb advanced to third; Battles scored; Moore scored. | Stovall | Fuller | 2 |
Critical stats in Auburn's loss to Arkansas
Eight of nine Arkansas runs came with two outs. Of the 16 runs Auburn allowed during the three games of the College World Series, 13 of them came with two outs.
Arkansas hit .444 (8-18) with two outs.
Auburn hit .200 (2-10) with two outs.
Auburn scored in four innings and didn't score in 23 innings during their three-game run at the CWS.
Again, the Tigers failed to get the leadoff man on, hitting .111 (1-9) for the game.
Auburn hit .000 (0-4) with runners on base.
Arkansas threw 113 total pitches in the game. Auburn threw 218.
Inside the box score: Arkansas 11, Auburn 1