What we learned from Bryan Harsin's Teleconference: Week Six vs Georgia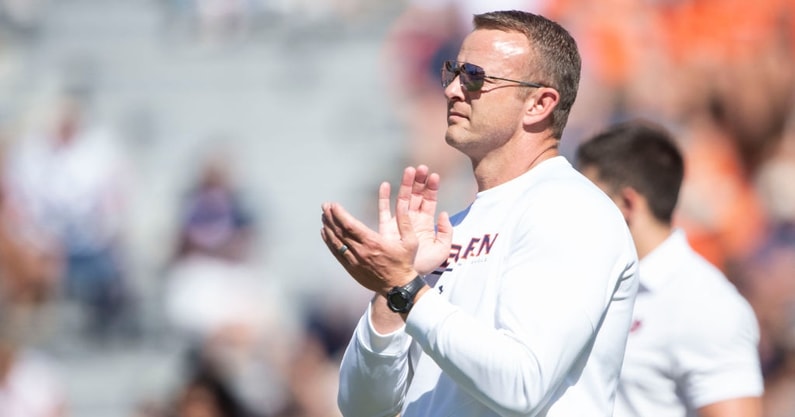 AUBURN- On Wednesday afternoon, Auburn head coach Bryan Harsin spoke in the weekly SEC Coaches' Teleconference.
Auburn will travel for the first time this season to compete against No. 2 Georgia at 2:30 p.m. CT on Saturday, October 8th.
What we learned from Harsin
Bryan Harsin said that Cam Riley is traveling with the team and he plans to have Riley playing in more than just special teams like he did last week against LSU: "I expect him to travel and play… He's practiced and I expect him to play."
Harsin's thoughts on the improvement of Robby Ashford: "Robby has definitely improved and I think depth, as the season goes on, becomes a factor, so you've got to have all of those guys ready… This last game, we did throw the ball in moments of the game well and there is still plenty of things to work on from what we're doing offensively to how we're executing it… His athletic ability gives us a chance to have an advantage… We're not where we want to be, but there are improvements in that area that we think we can build on."
Harsin talking about the first road game of the season: "I think there is some unpredictability. Road games- number one it's hard to win, number two it's hard to win on the road. That's why most places would like to believe they have a home field advantage… But, when you get out on the field, it's just football… I think it's just how you handle being uncomfortable, everybody is a little bit different there. We're talking about it and different ways to handle it, but it comes down to each individual player."
When asked about the lack of depth in quarterback position, Bryan Harsin said that this cannot limit Ashford's physicality in the game. "You've got to let these players play their game. That's one of the reasons I think he is improving, he's just kind of able to go out there and play the way he's able to play."
Harsin spoke on the game plan for competing against Georgia's tight end room: "In the country, they're two of the biggest matchup issues for everybody because they're really good… I think they're discovering how much more they can do with those guys… I don't think just one certain answer is the key to defending those guys. You've got to have multiple. You've got to have guys that are prepared to take on that challenge… They're good football players, they show that, and that's something that we have to prepare ourselves for to make sure we can handle those guys."
The impact of Auburn's defense so far this season: "Overall, I think our defense is playing well and playing with confidence… and we've got to compliment that with our offense more, because we haven't. In at least SEC play, we've done some really good things on our defensive side… We've got to put points up there. We've got to be able to score more than just 17 and give our defense a chance, with the way they're playing, that we can still go out there and win the game."