Injury updates on Adam Randall, rest of Clemson roster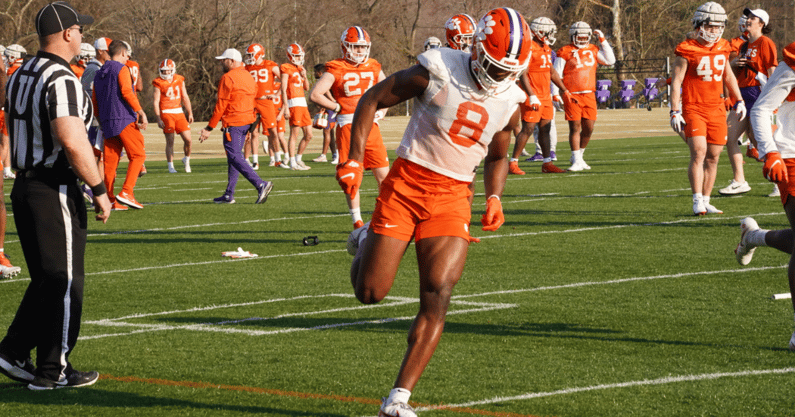 CLEMSON — After a disastrous year from an injury standpoint in 2021, Clemson is hoping for better luck this season.
So far so good for Dabo Swinney's Tigers.
Freshman receiver Adam Randall continues to rehab his torn ACL and will not be ready for fall camp, but otherwise Clemson is in good shape with practices just a couple of weeks out.
"The guys have done great. We had a great spring. A lot of guys with postseason surgeries, but we expect everybody to be in camp ready to go," Swinney said Tuesday at Clemson Media Day. "Adam will be in camp and in the meetings, but he'll be in a little different progression than everybody else."
Clemson finished the 2021 season down 28 scholarship players for its matchup with Iowa State, either due to injuries, COVID-19 protocol or the transfer portal.
The fact that only one Clemson player is expected to miss the start of fall camp is certainly encouraging.
"We were a MASH unit. I've never really been through anything like it in all my years here," Swinney said. "So hopefully that's a bad year injury wise behind us. You're always going to deal with things from time-to-time, but the totality of what we dealt with was a perfect storm last year."
Clemson WR Adam Randall injury update
Dabo Swinney is not exactly sure when freshman receiver Adam Randall will be fully cleared, but he is is ahead of schedule on his rehab after suffering a torn ACL this spring.
"All I can tell you is when you have injuries like that, the doctors have benchmarks that you should be at at certain times of your rehabilitation, and he's way above every benchmark," Swinney said.
Swinney has been getting updates from Clemson Director of Football Athletic Training Pat Richards about Randall.
"To use Pat Richards' word – He's a freak. That's exactly what he said," Swinney recalled.
Randall was off to a great start this spring before suffering the knee injury, and it was clear that he was ready to be a contributor this season.
Despite suffering the disappointing injury, Swinney still expects that to take place.
"He's awesome. He's doing great. He's going to have a great freshman year. When he plays, I don't know, but I do know he'll play at some point," Swinney said. "Is that first game, 10th game? I don't know. We'll see when that is. But I do know he's going to have a heck of a freshman year and a great career for us."