Son of former NBA all-star making plays for Clemson in spring practice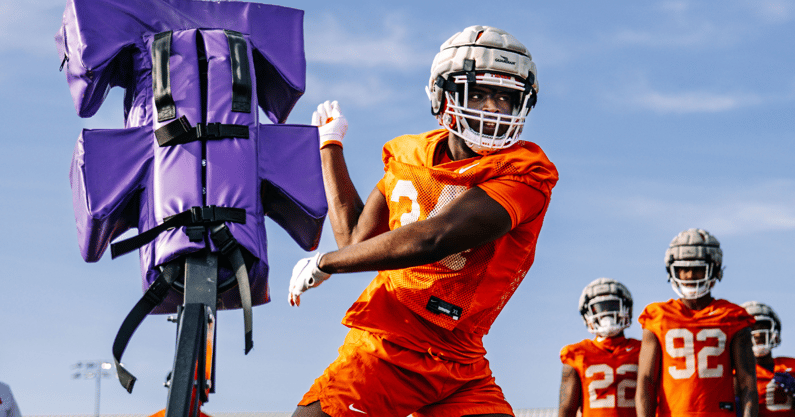 Clemson is searching for some players to step up at defensive end after losing starters KJ Henry and Myles Murphy off of last year's team.
An unlikely candidate with good genes was mentioned by Dabo Swinney on Wednesday as someone to watch out for.
Walk-on Armon Mason has been taking advantage of his opportunities this spring, Swinney said Wednesday night. Mason has received extra reps during practice with starters Xavier Thomas and Justin Mascoll banged up. Thomas is out for the spring as he recovers from offseason surgery, while Mascoll has missed time with an ankle injury.
Mason is the son of former NBA all-star Anthony Mason. He is the cousin of former Clemson star Grady Jarrett, who left Clemson in 2014.
"Armon Mason – nobody even knows who he is," Swinney said. "Y'all better learn who Armon Mason is, because if he sticks with it here, he's going to be a problem."
The redshirt sophomore appeared in six games last season, making a tackle in the ACC Championship Game against North Carolina.
Mason attended Richmond Hill High in Georgia, prior to joining the Clemson program as a walk-on in 2021. Mason redshirted his first season at Clemson, before playing a limited number of snaps on special teams in 2022.
"That guy is fast and explosive. He came here about 190 pounds knowing nothing. Now he's about 235. He's got about a 38 inch vertical. He can really run and change direction. He can bend," Swinney said. "Don't get me wrong, he's not going to win any awards right now. He still has a ways to go. But he's a kid that I just put on your radar, that if he hangs in there and keeps going, he's going to help us."
Jarrett is one of the best defensive linemen in Clemson history.
The current Falcons star had 207 tackles and 29.5 tackles for loss during his Clemson career. He appeared in 48 games, with 37 starts.
Mason obviously has a ways to go to turn into that kind of a contributor, but he has had a strong spring.
"I mean he's one of them guys that you've just gotta keep watering him. It might be another year. He's just going to be a redshirt sophomore," Swinney said. "But I'm telling you, if that kid will stick with it, before he leaves here, he's going to be a problem. … His dad is Anthony Mason, a great basketball player. Grady's his first cousin. He's just kind of a late bloomer, off the radar kid from Savannah. He's got a chance."