Clemson receiver out for the season with injury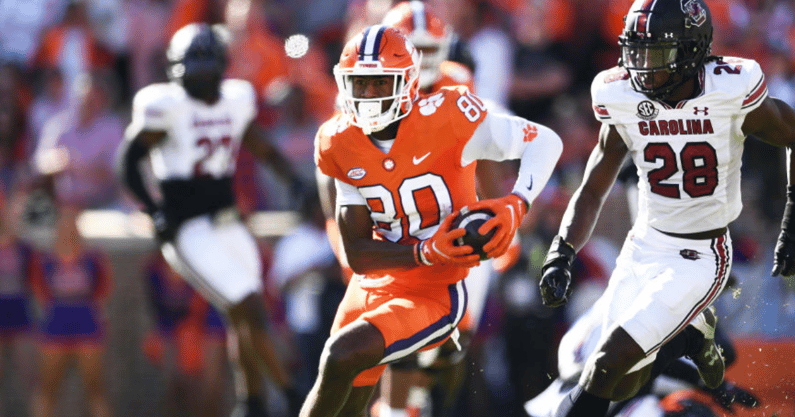 Clemson will be without one of its top receivers for the rest of the season.
Tigers wideout Beaux Collins is out for the year, Dabo Swinney announced during his press conference on Tuesday.
Collins has been battling through a shoulder injury and wanted to try to play against South Carolina. He played 26 snaps before leaving the game after his shoulder popped out of place once again.
"I really appreciate Beaux trying to go. He really wanted to try and finish," Swinney said. "We were hoping we'd get through the season and then we'd get it fixed but just wasn't meant to be. But he gave it all he could."
Collins is second on the Clemson team in yards per game, averaging 37.3. He leads the Tigers in touchdowns with five. The sophomore has 22 catches for 373 yards on the season.
The plan is for him to get surgery next week and then begin the rehab process.
"He'll be done. We've gotta fix it. It just kind of keeps coming out," Swinney said.
The loss of Collins is a big blow to a wide receivers group that is already struggling.
The Tigers dropped multiple passes in Saturday's loss to South Carolina as quarterback DJ Uiagalelei passed for only 99 yards.
While some of the struggles in the passing game are certainly due to Uiagalelei, he also didn't get much help from his receivers.
Swinney spoke Tuesday about why he believes the group is struggling.
"Just a lack of confidence and lack of details. Just guys stepping up," Swinney said.
While the receivers have struggled this season, Swinney does feel good about the group moving forward, particularly with several talented freshmen on the roster in Antonio Williams, Adam Randall and Cole Turner.
"I like where we are. I like the young guys that we've got — Adam Randall and Antonio and Cole," Swinney said. "I think we've got a good group. Beaux is a great player. And then we just have a couple of other guys that have struggled from a consistency standpoint. It's unfortunate, but that's where we are."