Clemson adds to 2023 class, lands 3-star CB Shelton Lewis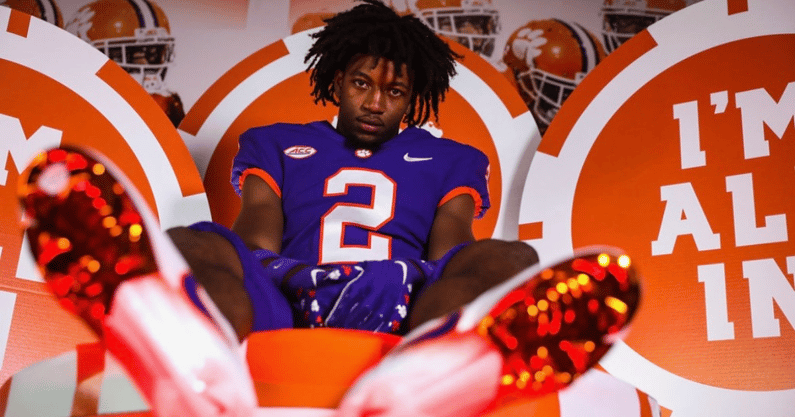 Clemson is full of kindred spirits for Stockbridge (Ga.) three-star cornerback Shelton Lewis. It immediately pulled him in. Now, Lewis is Clemson's 19th commit in the class of 2023.
Lewis added an offer from the Tigers on July 25. He was in attendance at the AllIn Cookout event recently. That day sold him on Clemson. He'd talked with Mike Reed after he de-committed from Pittsburgh, so there was a relationship, but the culture and the campus helped push Lewis to Clemson.
"I knew when I got up there and got the vibes," Lewis said. "Riding around and getting the feeling of it, the college town, I just knew that was somewhere that I would probably want to take my talents… The offer meant a lot. It's a big school and I've been working. The hard work is paying off. When I started weighing my options, this school became that school for me. I felt like everything I worked for is paying off. It feels good."
He will join his 7-on-7 teammates Avieon Terrell and Branden Strozier in the Clemson secondary. Lewis knows what he will get playing alongside Strozier and Terrell, as well as the other 18 commits.
"It was a good vibe," Lewis told On3. "I've played with most of the players on 7-on-7 teams. Knowing how they play and what they bring out of me when I play. I just know that I'm going to be at my full potential. Even the guys that are not from my area. Peter Woods, Robert Billings, I know what they bring to the table. They're going to help us all around as a team."
Clemson culture is a plus for Shelton Lewis
Lewis took note of the quotes on the walls of the Clemson facilities. The Tigers have done a lot of winning under head coach Dabo Swinney over the last decade.
Lewis doesn't see that changing.
"When you walk around the building they have quotes on the wall," Lewis said. "The standard is the standard. The coaches are going to hold you to that. They consistently win 10 games. I feel like they're going to the national championship every year because that's what they can do. … That's the standard and we're going to get back to that."
Early impact?
Lewis expects to compete. He didn't shy away from Clemson due to the two committed cornerbacks. He will enroll early in hopes of making an early impact on the Tigers' roster in any way he can.
"They want to see me at corner, they want me to be that guy, so I'm going early and try to earn my spot early," Lewis said. "I want to get on the field as much as I can. Whether that be special teams or defensively."