Clemson commit Asa Thomas confirms he made right choice on recent visit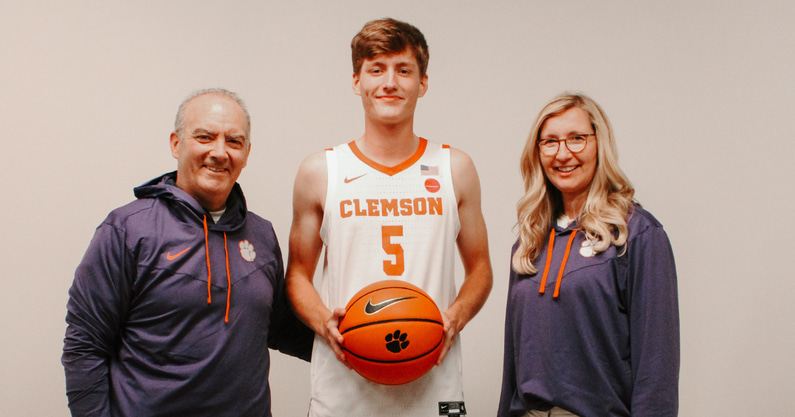 CLEMSON — Asa Thomas already felt good about his decision to commit to Clemson over the summer.
After his official visit to Clemson earlier this month, Thomas feels even better about his choice.
Thomas and his parents were in town for an official visit earlier this month when the Tigers hosted Furman in football.
The Illinois native recently told Clemson Sports that the trip was everything he hoped it would be and more.
"It was awesome. It was really nice to spend a lot of time with the guys on the team. We went out to lunch, dinner and just spent a couple of nights with them," Thomas said.
"The coaching staff did a great job just welcoming me into the family. The football game was really fun, watched practice. Just an overall really fun experience."
Thomas is ranked by On3 as the No. 134 overall player in the class of 2023. He committed to the Tigers in July over offers from Illinois, Ohio State and others.
New Clemson assistant Billy Donlon has a strong relationship with Thomas and his family and played a large role in the Tigers ultimately landing the sharp shooter.
"Coach Donlon was the main recruiter for me, and coach Brownell, obviously. We were in touch a lot," Thomas said. "They were just saying, 'We could see you being a great fit here. You would have a great career.' There's a couple of guys that are graduating that I can hopefully fill their role. They're really high on me and it's going to be a good fit."
Thomas added that his parents "loved" the trip as well.
He spent most of his time with Clemson players, while his parents spent most of their time with the Tigers coaching staff.
Thomas saw everything that he needed to see from the Clemson basketball program and the university as a whole on his visit.
"I knew before that I made the right choice. This trip was kind of just to go down there, spend some time with the guys, but it obviously validated my decision that I made before. I'm more sure now than ever," Thomas said.
"I love the people down there. They're all really nice – the hospitality. People say southern hospitality is better and I didn't know it until I went down there. It was awesome. Clemson University itself is just overall a great experience. Great people, a great culture, as well as the basketball program. They have the same values as I do. The culture is great. Teammates are great. I just really enjoyed both the university and the program overall."