Clemson commit and major 2024 targets among top performers at OT7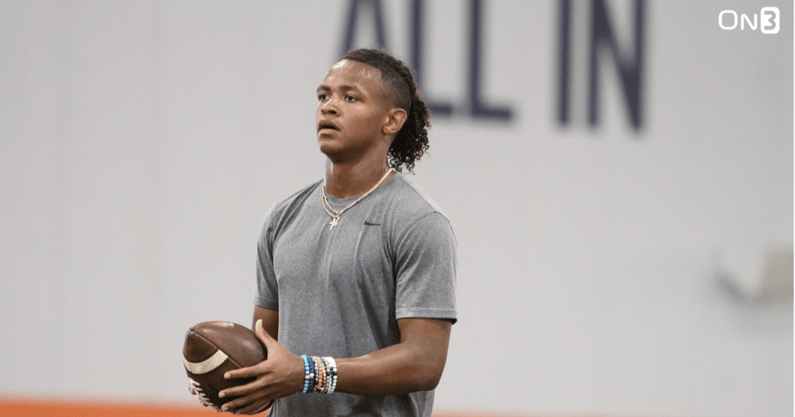 One of the premier 7-on-7 events of the summer had a Clemson feel to them on day 3. On3's Director of scouting and rankings Charles Power put out a strong list of top performers on Saturday night.
At the top, was a new Clemson target in Lilburn (Ga.) safety Mike Matthews. The No. 65 overall prospect in the On3 Consensus rankings for the class of 2024 was named the Day 3 MVP. He recently added an offer from Clemson and the Tigers have quickly jumped into contention for the four-star.
On3's Recruiting Prediction Machine has the Tigers sitting in the pole position with a 39.4% chance of landing Mattews at the moment.
Power was high on Matthews' catch radius and still-apparent basketball ability.
"Based on what we've seen this weekend, the Lilburn (Ga.) Parkview standout has one of the better receiver skill sets nationally. His length and coordination result in a very large catch radius. The basketball background is evident. Matthews also moves well and has the quickness and burst that points to some upside as a route-runner with continued focus at receiver," Power wrote.
Clemson commit Branden Strozier makes a splash in Las Vegas
Alpharetta (Ga.) St. Francis Branden Strozier was another Clemson name that popped up in On3's top performers from day three.
Strozier came in at the ninth spot on Power's list of top performers. He made the trip as part of Cam Newton's C1N team. Power took note of Strozier's long, athletic frame.
"The 6-foot-2 corner sticks out with his stature and used his length and instincts to make several plays in coverage on Saturday. Strozier got things going with a pick-six in C1N's first game. He later had good coverage resulting in a pass break-up while covering a route down the seam. Strozier has played both outside corner and nickel over the course of the weekend," Power wrote.
2024 targets taken note of
K.J. Bolden is the No. 3 overall prospect in the class of 2024. He was one of Clemson's first offers in the class last week.
Quarterback Jadyn Davis also recently added an offer from Clemson. Both players garnered some notes from Power on Saturday night.
"Bolden ranks as the No. 1 safety in the 2024 On300 and looks the part at the position. He's lining up deep for Hustle Inc. and has shown good range and feel for the position. Bolden looks to have a good understanding of coverage," Power wrote in the top safety in the class of 2024.
"Davis' arm checks out – he can drive the ball out to the boundary and downfield. He was a little spotty with the accuracy and Carolina Stars struggled to put a bunch of points on the board on Saturday," Power noted on Davis.