Clemson WR Joseph Ngata out for Gamecocks game, other WR updates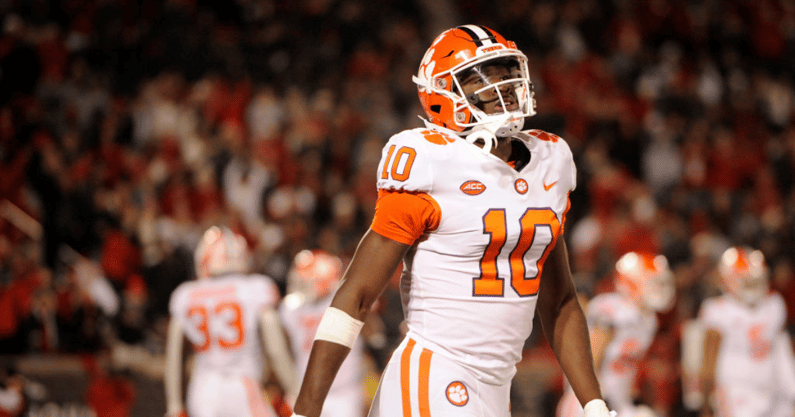 CLEMSON — Dabo Swinney was hopeful that Clemson wide receiver Joseph Ngata would be back for the South Carolina game. He revealed Tuesday morning that Ngata will not.
The Tigers' second-leading receiver in terms of yards is still not healthy after suffering a foot injury Nov. 6 at Louisville.
Ngata has 23 catches for 438 yards on the season.
The California native is one of several Tigers wideouts banged up. Clemson had seven receivers out last weekend against Wake Forest — Justyn Ross, Ngata, Frank Ladson, EJ Williams, Troy Stellato, Will Taylor and Brannon Spector.
Ross, Ngata, Ladson, Stellato, Taylor and Spector will be out this week as well as the Tigers travel to Columbia. Swinney said Williams is considered day-to-day after being injured last week at practice.
"Wednesday, we're in 7-on-7, and EJ is lined up and had just run a route. And he comes back and he was a little tight on his alignment. So he goes to widen out and went down. [It was] like a sniper just took him out," Swinney said.
"It's not going to be surgical, but it's almost like a pulled muscle they'd call it on the back of the hammy/knee area. I don't know what it's called. But it's the craziest thing I've ever seen. I don't know how to explain it. I mean it's the craziest thing. I don't know what happened."
As for Stellato, the Clemson freshman was set to play a good bit last week against Wake Forest but was injured during warm ups. Stellato suffered a heel injury and is "still limping, he's just limping around," Swinney said.
"He planted wrong and came down on his heel. The next thing I know Danny Poole's telling me Stellato's out," Swinney recalled. "It's hard to play receiver when you can't walk."
With the Tigers banged up last weekend, Clemson started freshman Dacari Collins, freshman Beaux Collins and senior former walk-on Will Swinney at receiver.
Clemson's offense still put together its best game of the year with 543 yards of offense against the Demon Deacons.
"His mama told me we're averaging 48 points per game when he starts at receiver," Swinney joked after the game.