Clemson pulls away from Georgia Tech, stays atop ACC standings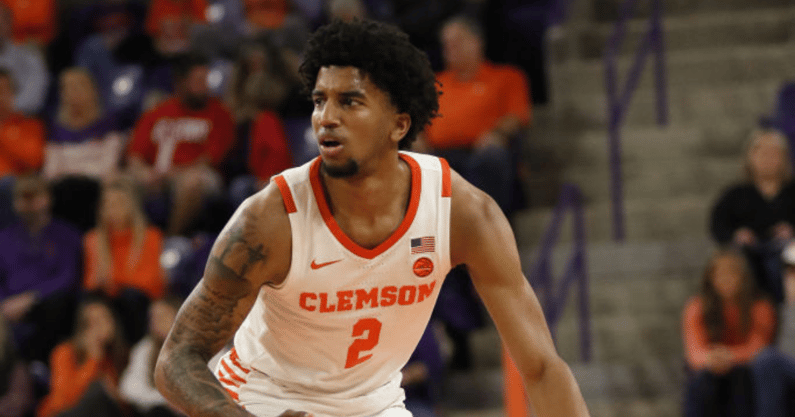 CLEMSON — After Saturday's Clemson basketball game came down to the final seconds, Tuesday's was all but decided just a couple of minutes in.
Clemson jumped out to a 12-0 lead over Georgia Tech 87 seconds into the game and never trailed on its way to a 72-51 win over the Yellow Jackets at Littlejohn Coliseum.
The Tigers were once again without starting guards Alex Hemenway and Chase Hunter, but it didn't matter as others stepped up.
With the win, Clemson is now 17-4 (9-1) and remains alone atop the ACC standings. This is Clemson's first 9-1 start in ACC play in school history.
"A very workman-like win I thought today," Tigers coach Brad Brownell said. "Just really pleased with the way our guys played. We came out really ready."
Senior guard Brevin Galloway scored 7 of Clemson's first 12 points as the Tigers were off and running.
Galloway finished with 14 points, 2 rebounds and 5 assists while knocking down 3 of his 6 3-point attempts.
"Brevin made some shots, which helps. … We got them on their heels," Brownell said.
In addition to Galloway, junior forward PJ Hall, senior forward Hunter Tyson and freshman forward Chauncey Wiggins also scored in double figures.
Hall had 17 points and 7 rebounds, while Tyson added 12 points and 8 boards. Both players only played 26 minutes.
Wiggins added 12 points and 2 rebounds while finishing 5 of 7 from the field and 2 of 3 from 3-point range.
Fellow freshman Dillon Hunter also played well while making his first career start, scoring 9 points with 1 rebound and 2 assists in 36 minutes.
Dillon Hunter was filling in for his older brother Chase Hunter, who continues to be sidelined with a foot injury but is close to returning.
After leading by nine at halftime, Clemson pushed its lead to double digits early in the second half and never looked back.
"Our guys did a nice job in the second half of just playing the right way, doing what we need to do, very efficient," Brownell said. "Good to see a lot of my young freshmen guys being productive, getting more opportunities."
The Tigers have now won 15 consecutive home games and are a perfect 12-0 at home on the season.
"Proud of the way they approached tonight's game and played. A good win," Brownell said.
Up next, Clemson gets a few days off before playing at Florida State on Saturday.