Louisville QB says loss to Clemson 'haunts me every day'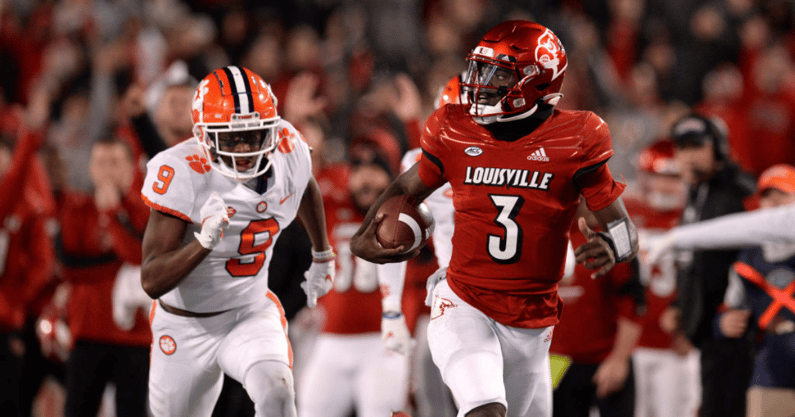 CHARLOTTE — Clemson had several close scares throughout last season, including in early November at Louisville.
The Tigers ultimately held on for a 30-24 victory at Cardinal Stadium after getting a goal line stand in the final seconds.
Louisville led by a touchdown entering the fourth quarter and had a chance to take the lead late. The Cardinals reached the Clemson 2-yard line before being stopped on fourth down to end the game.
The close loss still bothers Louisville quarterback Malik Cunningham nearly nine months later.
"I don't think Clemson was expecting us to come in and hit 'em in the mouth like we did. That game haunts me every day," he said Wednesday at the ACC Kickoff event. "There's not a day that goes by that I don't think about that last drive."
Cunningham was less than 100 percent on that final drive after leaving the game late in the third quarter with an ankle injury.
He ended up returning to the game during the fourth quarter but said that he wasn't close to 100 percent.
Louisville started its final drive at its own 25 with 2:19 on the clock needing a touchdown to take the lead.
The Cardinals had first-and-goal from the 2 but were unable to reach the end zone.
"The game was on TV the other day. I watched all the way up until that," Cunningham said. "The last four plays, I don't watch them. It wasn't the best version of Louisville. It wasn't us."
The Cardinals ran the ball on the first two plays after getting inside the 5-yard line, then called timeout with 39 seconds left.
Cunningham believes that timeout was costly.
"We had no timeouts, so we had to go signal. And if you know, Clemson steals signals, so it's kind of hard signaling the plays and they've got 60 coaches looking at the signals," Cunningham said. "So it was kind of hard. We don't blame it on that. I wouldn't say we lost it because of signals. Nah. It was not that. They beat us. It's fair and square."
The two teams will play in November this season at Clemson. It's a game Cunningham is looking forward to.
"That one definitely is double circled, for sure," Cunningham said. "When we see them again it's going to be a different outcome."