Clemson RB Will Shipley discusses 'tough situation' with lack of carries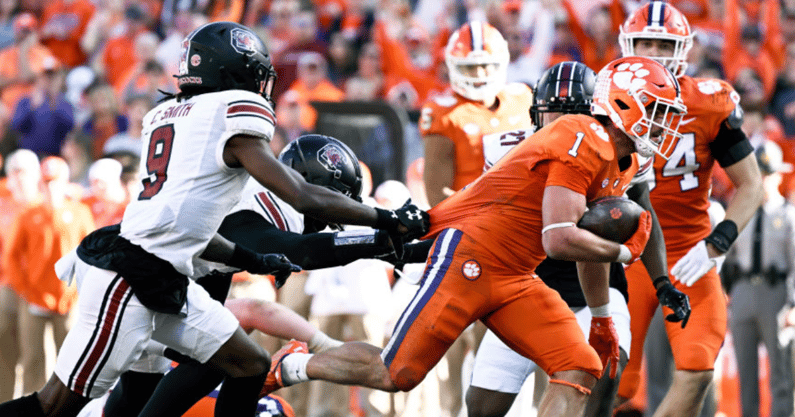 Clemson running back Will Shipley had a strong game Saturday afternoon against South Carolina.
The sophomore had 15 carries for 132 yards and a touchdown, averaging close to 9 yards per attempt.
But Shipley didn't get many opportunities in the second half, particularly in the fourth quarter.
Clemson's star running back had 2 carries for 9 yards in the fourth quarter. He had only six carries for 33 yards in the second half as South Carolina stunned the Tigers 31-30.
"I'm just out there running plays. I get the signal and I line up and I go. I try to input or give anything I can that I see on the field. If they take it, they take it. If they don't, they don't. I just do my job," Shipley said.
"There were definitely some things out there that we could've attacked, but they chose to attack some other things that were there as well."
Shipley knew that he was running the ball well but didn't realize that the number was 9 yards per carry until he was told so afterwards.
He said that the number adds to his frustration about the lack of carries.
"I didn't even know that. That was the first time I've heard it, but yea, it does. It makes it frustrating for me, just because I know that it was successful and it was working. That's how I felt all night," Shipley said. "I don't believe they stopped me running the ball all night. The o-line did such a great job hatting it up and just giving me holes, allowing me to take my vision and make the most out of plays. It's just a tough situation."
Shipley said that he still fully trusts Clemson's coaching staff and offensive coordinator Brandon Streeter, but he does wish there would've been more touches his way, particularly in the second half.
"I've got full confidence in coach Streeter, coach Swinney, coach Spiller, to get me the ball when I need it and when they feel like I need it," Shipley said.
"As a competitor, hell yea I want the freakin' rock with five minutes to go and the game on the line against our rival. That's me as a competitor. But it's not how it shakes out all the time. Like I said, I've got full confidence in the coaching staff and what they're calling, so I've just gotta roll with it."
Tigers coach Dabo Swinney admitted after the game that Clemson went away from Shipley too quickly, especially with a passing game that was virtually nonexistent.
"Definitely wish we would've gotten it to him a little bit more," Swinney said.