Dabo Swinney embraces intensity of Carolina-Clemson rivalry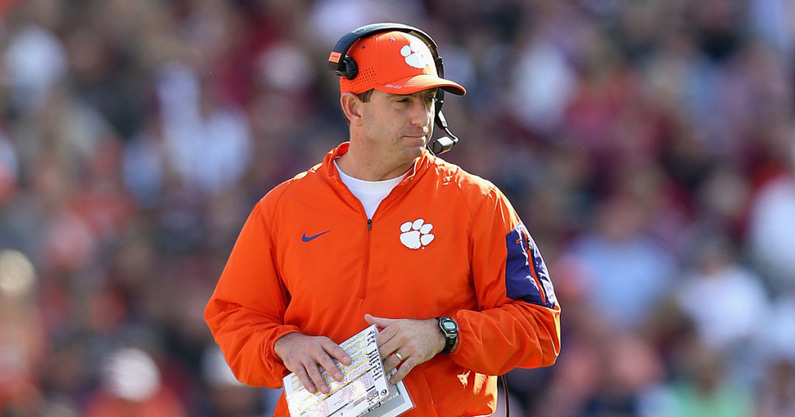 For Clemson coach Dabo Swinney, rivalry week is his favorite week of the year.
Swinney grew up in Alabama and was a part of that rivalry as a fan, player and coach for 33 years. He has now been at Clemson for nearly two decades, experiencing the South Carolina-Clemson rivalry.
Swinney loves the intensity and passion that is on display throughout different parts of the country this week.
"Everybody's paying attention and everybody's involved. It's a lot of fun to be a part of these type games. Not everybody has the opportunity to be a part of a real, traditional rivalry type game," Swinney said. "Thankful for that and look forward to a great day in the Valley on Saturday."
While some coaches downplay rivalry games, Swinney embraces it.
Some coaches describe rivalry games as "just another game." Swinney says the South Carolina-Clemson game is "a season of its own."
So why exactly does Swinney embrace the notion that this isn't just another game? He was asked that by a local TV reporter who is originally from Chicago on Tuesday.
"Because I grew up in Alabama," Swinney said. "Northwestern and Indiana, they're probably not having marriages break up over that. No offense to Northwestern and Indiana."
"You grow up in Alabama, that's it. I've said many times, you don't even leave the hospital, you've gotta declare right there. Which way you going? And they put it right on your birth certificate," Swinney said. "Otherwise you just stay in the hospital. They don't let you leave. That's the best way I can answer it. That's what I grew up with. That's all I know. My whole life, 33 years, until I came to Clemson."
Swinney and the Tigers have won seven consecutive games against South Carolina and have a chance for a record eighth-straight win over the Gamecocks on Saturday.
Prior to that, Swinney had lost five straight to USC.
He certainly enjoys being on the winning side of things more than the losing.
"I've experienced every part of it. You grow up in a place like Alabama, and then you come to South Carolina and it's no different. It's exactly the same. And that's what I experienced when I came here," Swinney said. "It didn't take me long to figure out, 'Well, this is a different logo, but this isn't any different.' It's special. It really is. It means a lot to a lot of people. It never gets old. It's a big deal to a lot of people. I've always just embraced it because it's natural to me."