Dabo Swinney shares his message to Antonio Williams after late fumble vs. SC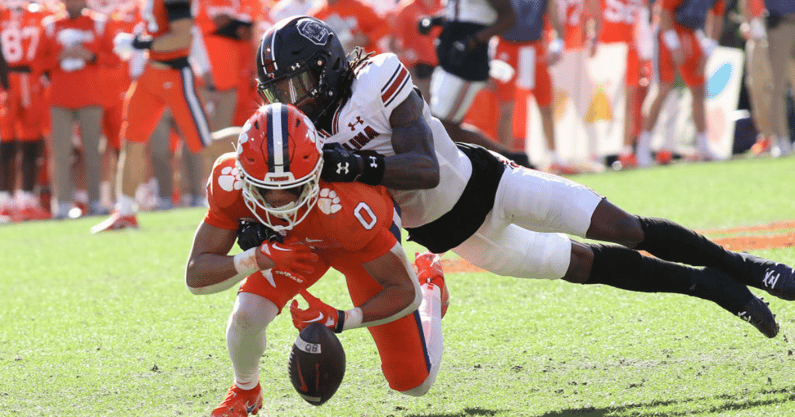 Despite all of its struggles on offense against South Carolina, Clemson was set to get the ball back one final time with a chance to win this past weekend against the Gamecocks.
Clemson freshman receiver Antonio Williams fielded a punt at the Clemson 36 with 2:16 remaining and was nearing midfield when the ball was punched away from him from behind.
The Gamecocks recovered and ran out the clock to earn their first win against Clemson since 2013.
Williams was clearly upset on the sideline after the fumble, but Tigers coach Dabo Swinney came over to comfort him and encourage him as the final seconds ticked off the clock.
Swinney shared what his message was to Williams during his call-in show earlier this week.
"My message to Antonio was hey man, I love him no matter what. My love is unconditional for my team. And that's exactly what I told the team," Swinney said. "I don't love them just when we win. I've walked off that field [with a loss] 2013 against Florida State, 2016 against Pitt and then Saturday. And that's it in a long time. And I almost didn't know what to do."
As Swinney alluded to, the loss not only snapped Clemson's streak of seven straight wins against South Carolina, it also ended the Tigers' home winning streak after 40 consecutive games.
The fumble was perhaps even more difficult for Williams because he grew up in the Columbia area and very seriously considered playing for the Gamecocks. Clemson ended up offering him late, and he chose the Tigers over USC.
"It is disappointing, because we didn't get it done. But they're people. We're all people," Swinney said. "But I'm a grown man, and this is a young player that's from Columbia. Obviously a lot of emotion and things like that. My message to him was, 'Hey, listen, you're going to have a lot of great days ahead. This is just part of your journey. You're going to learn and grow from it. But we're not where we are without you, and I love you.'"
While Williams' fumble came at a critical point, there were also several other plays that helped decide the game leading up to that mark.
Also, as Swinney pointed out, Clemson would not be 10-2 without Williams.
The freshman leads the Tigers with 50 catches for 523 yards and has been the most consistent receiver on the team throughout the season.
"That kid, we don't have 10 wins without him. I mean he is a great young player. He's going to be a star player. He's got a lot of great, great days ahead of him," Swinney said.
"He's a good kid and he's responded. You've gotta pick yourself, you've gotta keep moving. … He'll be just fine. He's going to make a lot of plays over the remainder of his career. That was a bad one and nobody wants to make it more than him, but nobody's perfect."