Clemson stays put at No. 6 in AP Top 25 Poll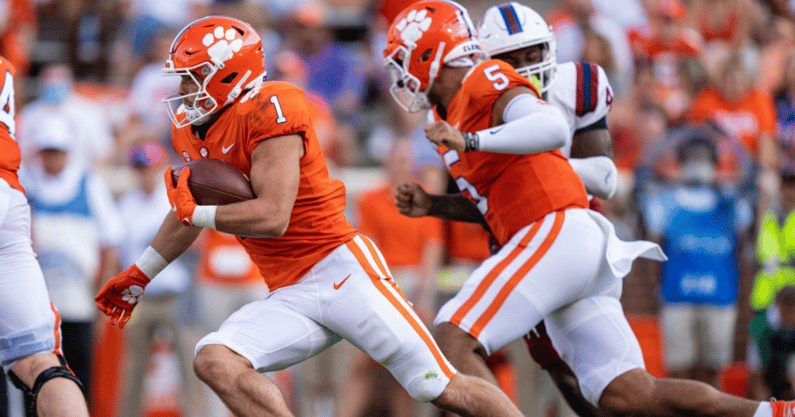 CLEMSON — Following Week 2 of the college football season, Clemson is holding strong in the AP Top 25.
Fresh off a huge 46-point victory over FCS South Carolina State in the home opener at Memorial Stadium, Clemson sits at No. 6 in this week's AP Top 25 poll that was released on Sunday afternoon.
The Tigers remain the top-ranked team in the ACC, but Ohio State's upset loss to Oregon caused some legitimate shuffling at the top of the rankings. Clemson is in a position to climb moving forward, but the Tigers do not have another ranked team on their schedule for the rest of the regular season.
Meanwhile, the ACC Coastal had three teams make an appearance this week with Miami, North Carolina, and Virginia Tech showing up between 15 and 24.
If Clemson can keep winning, everything should take care of itself. The Tigers are now beginning preparation for their first ACC opponent of the season when Georgia Tech makes the trip to Death Valley this weekend. Kickoff is set for 3:30 p.m. ET to be televised on either ABC or ESPN.
Here is how the entire AP Top 25 looks this week:
1.) Alabama
2.) Georgia
3.) Oklahoma
4.) Oregon
5.) Iowa
6.) Clemson
7.) Texas A&M
8.) Cincinnati
9.) Ohio State
10.) Penn State
11.) Florida
12.) Notre Dame
13.) UCLA
14.) Iowa State
15.) Virginia Tech
16.) Coastal Carolina
17.) Ole Miss
18.) Wisconsin
19.) Arizona State
20.) Arkansas
21.) North Carolina
22.) Auburn
23.) BYU
24.) Miami
25.) Michigan
Receiving votes: UCF, TCU, Liberty, Michigan State, USC, Indiana, LSU, Kansas State, Nevada, Oklahoma State, Texas, Maryland, Pittsburgh, Kentucky, Stanford, Utah, Boston College, Arizona, Texas Tech, Fresno State, Toledo, Army