Results released for Clemson Big Weigh-In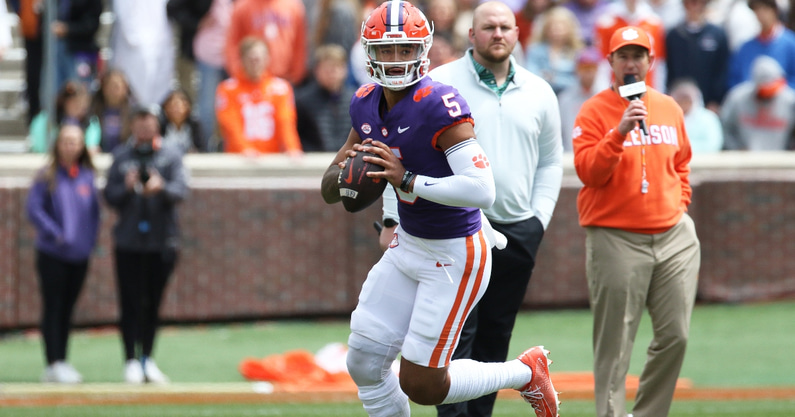 Ahead of the start of fall camp on Friday, Clemson held its Big Weigh-In for 2022 on Thursday afternoon.
Tigers players worked all summer to reach their targeted weights, and the results are in.
Here is what Clemson players are listed at on the roster and what they weighed at the official Big Weigh-In:
Clemson Big Weigh-In results
Note: Weight from Big Weigh-In is listed beside the players' name. Listed weight on the depth chart is in parentheses.
Fr. RB Keith Adams Jr.: 212 (200)
Sr. TE Davis Allen: 253 (250)
Jr. LB Sergio Allen: 231 (230)
Fr. TE Griffin Batt: 222 (210)
Jr. LB LaVonta Bentley: 233 (235)
So. TE Will Blackston: 256 (250)
So. OL Will Boggs: 289 (285)
Fr. K Liam Boyd: 183 (195)
So. DT Bryan Bresee: 307 (300)
So. TE Jake Briningstool: 227 (235)
Fr. OL Nathan Brooks: 283 (280)
So. DT DeMonte Capehart: 306 (310)
Sr. LB Jesiah Carlton: 240 (230)
So. LB Barrett Carter: 224 (225)
Fr. LS Holden Caspersen: 214 (210)
So. K Quinn Castner: 145 (145)
So. WR Beaux Collins: 208 (215)
So. WR Dacari Collins: 211 (215)
Fr. S Brodey Conn: 200 (190)
Jr. LB David Cote: 225 (215)
Fr. LB Fletcher Cothran: 212 (210)
Fr. S Sherrod Covil: 192 (190)
Jr. OL Mac Cranford: 288 (285)
Fr. WR Jackson Crosby: 184 (180)
Jr. CB Fred Davis: 202 (190)
Sr. DT Tyler Davis: 301 (300)
Fr. DE Cade Denhoff: 257 (250)
Sr. S Carson Donnelly: 197 (195)
Fr. LB Colby Doolittle: 237 (225)
Fr. LB T.J. Dudley: 230 (220)
Jr. WR Hampton Earle: 193 (190)
So. LB Joey Eddis: 203 (200)
So. TE Sage Ennis: 232 (240)
Fr. LB Riggs Faulkenberry: 212 (205)
So. LS Philip Florenzo: 240 (240)
So. OL Connor Graham: 285 (285)
Jr. WR Hamp Greene: 180 (180)
Jr. CB Malcolm Greene: 195 (190)
Fr. S Kylon Griffin: 191 (185)
Fr. K Robert Gunn: 178 (175)
So. QB Hunter Helms: 215 (210)
Fr. S Jacob Hendricks: 171 (180)
Sr. DE KJ Henry: 256 (260)
Jr. WR Tye Herbstreit: 177 (170)
So. OL Trent Howard: 297 (290)
So. WR Blackmon Huckabee Jr.: 191 (185)
Fr. WR Zach Jackson: 206 (200)
Sr. QB Hunter Johnson: 209 (215)
Fr. OL Mason Johnstone: 237 (250)
Sr. CB Sheridan Jones: 189 (185)
Fr. OL Sam Judy: 314 (300)
Fr. WR Jaden Kinard: 178 (180)
Fr. QB Cade Klubnik: 197 (185)
Fr. DE Jahiem Lawson: 233 (215)
Fr. OL Tristan Leigh: 317 (315)
Fr. C Ryan Linthicum: 306 (300)
Fr. CB Jeadyn Lukus: 193 (185)
So. RB Phil Mafah: 228 (225)
Jr. LB Keith Maguire: 240 (230)
Jr. LB Matthew Maloney: 216 (210)
Fr. WR Michael Mankaka: 183 (190)
Sr. DE Justin Mascoll: 253 (260)
Fr. DE Armon Mason: 223 (210)
Fr. DE Levi Matthews: 213 (200)
Jr. OL Mitchell Mayes: 316 (310)
So. S Bubba McAtee: 207 (200)
Fr. LB Kobe McCloud: 223 (210)
So. DE Evan McCutchen: 248 (235)
Sr. OL Jordan McFadden: 307 (310)
Fr. RB Kevin McNeal: 195 (195)
Jr. S R.J. Mickens: 212 (205)
Fr. OL Blake Miller: 317 (315)
Fr. S Boston Miller: 200 (200)
Fr. LB Reed Morrissey: 223 (200)
Fr. K Hogan Morton: 165 (160)
So. S Andrew Mukuba: 180 (185)
Jr. DE Myles Murphy: 278 (275)
Fr. S Peter Nearn: 204 (195)
Sr. WR Joseph Ngata: 215 (220)
Fr. S Caleb Nix: 199 (200)
Fr. CB Myles Oliver: 179 (170)
Jr. DT Ruke Orhorhoro: 296 (295)
Jr. RB Kobe Pace: 205 (210)
So. DT Payton Page: 317 (335)
Jr. OL Walker Parks: 314 (300)
Fr. DE Zaire Patterson: 260 (250)
Fr. QB Trent Pearman: 185 (170)
Fr. OL Chapman Pendergrass: 297 (300)
Fr. OL Dietrick Pennington: 360 (335)
Sr. S Jalyn Phillips: 207 (205)
Fr. OL Peyton Pitts: 301 (315)
Fr. TE Banks Pope: 242 (250)
Sr. K BT Potter: 200 (190)
Sr. TE Luke Price: 234 (235)
Fr. CB Toriano Pride: 190 (185)
Sr. OL Will Putnam: 313 (305)
Fr. WR Adam Randall: 230 (215)
Jr. DT Etinosa Reuben: 295 (285)
Fr. RB Tristen Rigby: 206 (200)
Sr. DE Andrew Roberts: 230 (225)
Sr. DL Jabriel Robinson: 269 (260)
Sr. CB Elijah Rodgers: 184 (185)
Fr. OL Collin Sadler: 323 (295)
Fr. TE Josh Sapp: 243 (235)
Fr. RB Wise Segars: 202 (195)
So. RB Will Shipley: 205 (205)
Jr. LB Trenton Simpson: 240 (230)
Fr. P Jack Smith: 232 (225)
Jr. WR Brannon Spector: 204 (195)
Fr WR Troy Stellato: 189 (195)
Fr. DL Caden Story: 290 (275)
Jr. P Aidan Swanson: 165 (180)
Fr. WR Clay Swinney: 167 (160)
Sr. WR Drew Swinney: 185 (185)
Jr. DE Kevin Swint: 239 (255)
So. OL Marcus Tate: 328 (325)
So. WR Will Taylor: 182 (175)
So. RB Domonique Thomas: 215 (195)
Sr. DE Xavier Thomas: 254 (265)
So. LB Jeremiah Trotter Jr.: 229 (225)
Jr. OL Mason Trotter: 277 (285)
So. OL Bryn Tucker: 333 (320)
Fr. WR Cole Turner: 180 (180)
Jr. QB DJ Uiagalelei: 234 (250)
Jr. S Tyler Venables: 209 (200)
Jr. K Jonathan Weitz: 195 (190)
So. CB Nate Wiggins: 185 (180)
Fr. QB Billy Wiles: 219 (215)
Fr. WR Antonio Williams: 192 (180)
Jr. WR E.J. Williams: 191 (195)
Jr. DE Greg Williams: 268 (260)
So. OL John Williams: 307 (300)
So. DT Tre' Williams: 302 (300)
Fr. LB Wade Woodaz: 217 (205)