Heisman odds for Cade Klubnik, Will Shipley ahead of 2023 season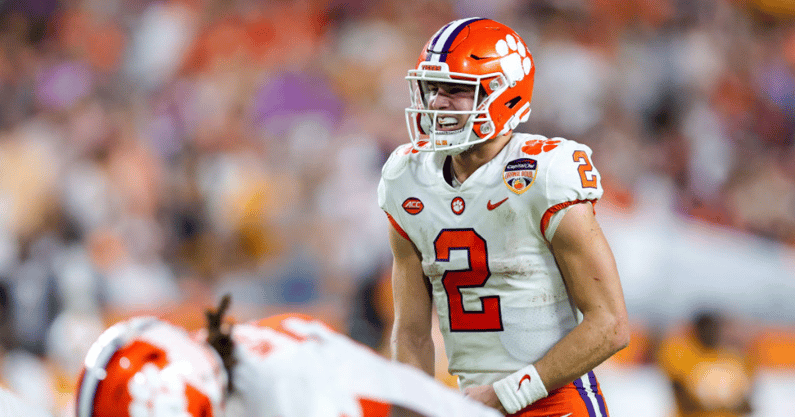 A pair of playmakers on the Clemson offense are in the early Heisman conversation for the 2023 season.
Clemson quarterback Cade Klubnik and Tigers running back Will Shipley have Heisman odds out at various sportsbooks.
Klubnik has 25-1 odds on FanDuel, which is tied for the 11th-best odds. Caleb Williams is currently the Heisman favorite on FanDuel at 4-1. Shipley is tied for the 23rd-best odds at 60-1.
On DraftKings, Klubnik is 30-1 and tied for the 14th-best odds. Shipley is 50-1 and tied for the 20th-best odds. Williams is the favorite on DraftKings as well.
Behind Williams are Florida State quarterback Jordan Travis (10-1), North Carolina QB Drake Maye (12-1), Oregon QB Bo Nix (14-1) and Washington QB Michael Penix Jr. (14-1).
Klubnik is entering his first season as Clemson's starting quarterback after taking over for DJ Uiagalelei late in the 2022 season.
The rising sophomore threw for 697 yards, 2 touchdowns and 3 interceptions in limited playing time last year. Klubnink also rushed for 139 yards and two scores.
Prior to coming to Clemson, he starred at Westlake High School in Austin, Texas. Klubnik was ranked as the No. 18 overall player in the country for the class of 2022, according to the On3 consensus rankings.
Shipley is coming off of an incredible 2022 season in which he rushed for 1,182 yards and 15 touchdowns, caught 38 passes for 242 yards and had 13 kickoff returns for 324 yards.
According to Clemson SID Ross Taylor, Shipley was the only player in the country with 1,150-plus rushing yards, 200-plus receiving yards and 300-plus kickoff return yards in 2022
The North Carolina native joined former Clemson running back and current Tigers running backs coach CJ Spiller as the only ACC players since 2000 to accomplish that feat.
Shipley signed with Clemson as a four-star recruit and one of the top running backs in the country in the class of 2021. He is entering his junior season with the Tigers.
Klubnik and Shipley will be led by a new offensive coordinator as Garrett Riley has replaced Brandon Streeter as Clemson's OC.
Riley comes to Clemson from TCU. He helped the Horned Frogs to the national title game this past season.
"I am super excited to welcome Garrett and Lindsay Riley and their two precious sons to the Clemson Family," Swinney said in a statement earlier this month. "Garrett has an incredible track record. His body of work — including this past season when his ninth-ranked scoring offense helped TCU transform from a five-win team into a 13-win national championship game finalist in their coaching staff's first season — speaks for itself… I know all of Clemson will help welcome the Riley family into the Clemson Family with open arms."