Clemson still in top 10 in latest College Football Playoff rankings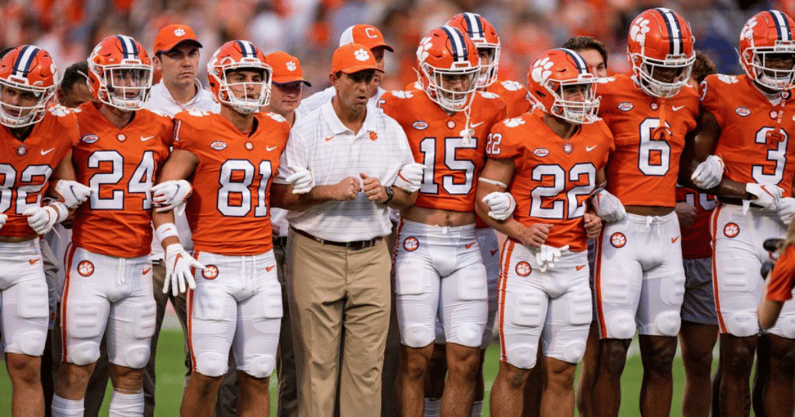 CLEMSON — The latest College Football Playoff rankings were released Tuesday night and it's no surprise that Clemson dropped in the poll.
The Tigers are now ranked No. 9 after falling to rival South Carolina over the weekend.
Clemson was previously ranked No. 8 prior to Saturday's loss.
South Carolina moved into the top 25 and is now ranked No. 19 after upsetting Clemson.
While Saturday's loss was disappointing, the Tigers still have plenty to play for.
That begins this weekend when Clemson faces North Carolina in Charlotte for the ACC championship.
The Tar Heels are coming off of back-to-back losses but are still ranked No. 23 entering the ACC title game.
Clemson can earn its seventh ACC championship in the past eight years with a win on Saturday.
"Always great to walk in and have a Tuesday press conference this time of year, because that means we're still playing," Clemson coach Dabo Swinney said. "We're still at it. That's a good thing."
The Tar Heels are led by freshman quarterback Drake Maye, who has had one of the best seasons of any QB in the country.
Maye enters the ACC title game with 3,847 passing yards, 35 touchdowns and five interceptions. He also leads the Tar Heels in rushing with 629 yards and six scores.
"Offensively, they're the best we've seen, by far. They're very good. And they're consistent. The quarterback is a great, great football player," Swinney said.
"He's a very good player, that's why we recruited him. He's a winner. He's very accurate. He puts the ball where guys have a chance to make a play. And just really impressive."
The leading receiver for the Tar Heels is junior Josh Downs, who enters the game with 83 catches for 929 yards and 11 touchdowns. Stopping him will be a priority for Clemson.
"They've got the best player we've seen, and that's No. 11. He is a great, great football player," Swinney said. "He will have his name called early [in the draft]. He's special. He's really, really, really good. He can catch everything. He's quick as a cat. He's got great football savvy, and they get him the ball every which way."