Dabo Swinney continues to embrace family atmosphere at Clemson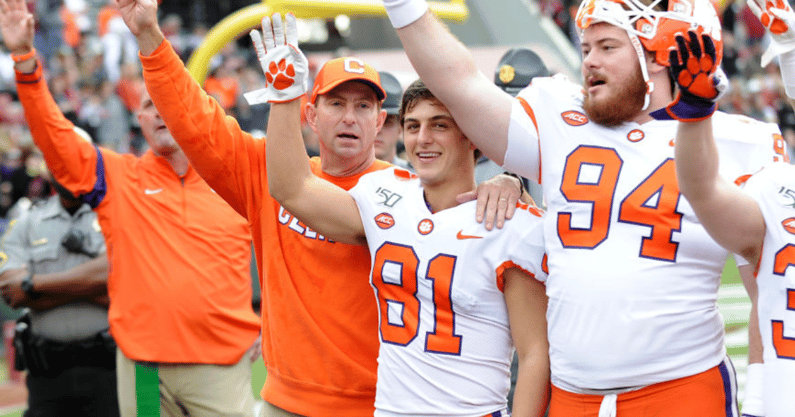 CLEMSON — Being a college football coach is a never-ending job for some.
Between recruiting, game planning, meetings and film study, family time can be hard to come by.
That has led to some coaches in the profession getting burnt out, and there is concern that ever more coaches may want out of college football in the future.
Clemson coach Dabo Swinney makes it a priority to keep his staff from getting to that point by constantly allowing coaches to have family members over at the facility.
He also gives staff members time off during the summer for vacation.
"I'm thankful that I'm the head coach and that I can set the calendar and kind of create the climate every day that we go to work in," Swinney said at the ACC Kickoff event. "Because I do value the families that I work with – their opportunity to be fathers and husbands and wives."
When it's time to work, Clemson's staff works as hard as any in the country.
But having a strong work-life balance is something Swinney believes is critical to having a successful program.
"We've got a big staff. It's hard work and we've gotta grind," Swinney said. "But I do think if you're organized and efficient, you don't have to sacrifice your family to do a job. That's what I believe and that's what I try to create at Clemson."
Playing with tempo important for Clemson
Clemson had to make several changes due to injuries last season.
One big one was the Tigers didn't use much tempo.
Injuries and an inability to be consistent on offense led to Clemson playing at a much slower pace last year.
Dabo Swinney expects that to change this fall.
"We didn't wanna go away from being tempo last year, but we didn't have a lot of people on the sideline," Swinney said. "We had to kind of manage the game differently to give ourselves a chance to win. There's a lot of things you wanna do, but somewhere along the line, you've gotta do what you've gotta do to win."
Ultimately Clemson did find a way to win games. The Tigers won their final six games of the 2021 season to finish with 10 wins for the 11th straight year.
Swinney expects Clemson to get back to winning games the way it is accustomed to this coming season.
"We love to play fast. We love to stretch the field horizontally and vertically," Swinney said. "But you've gotta have the horses to do it. We feel like we've got the type of personnel that we're accustomed to having the past decade or so."