Dabo Swinney 'proud' of how Clemson ended 2021 season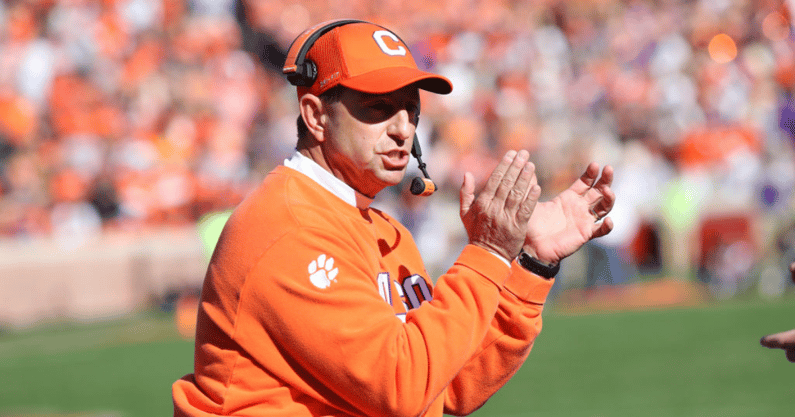 Clemson's start to the 2021 college football season was not what Dabo Swinney or anyone in the Tigers program was hoping for or expecting.
Clemson was 4-3 after losing to Pitt in late October, and Swinney joked Wednesday morning on the ACC Network that Clemson folks were ready to run him out of town.
"We're sitting there 4-3, man, they've got U-Haul trucks outside the Swinney house. Not even two men and a truck. It's U-Haul. You haul it on out of here," Swinney said.
But after falling to the Panthers, Clemson would not drop another game the rest of the season.
The Tigers won six straight games to end the year and finished with 10 wins. Clemson has now won 10 games for 11 consecutive years, joining Alabama and Florida State as the only programs to ever accomplish that feat.
"That's happened three times in the history of football – Alabama now, Clemson now, Florida State. … That's it. If it was easy to do, there would be a lot more people," Swinney said.
"We were a good team last year. I know 10-3 is a disappointment to a lot of people, but I was really proud of that football team and how they finished."
Swinney believes that Clemson has good momentum after the way last season ended and the way this spring went.
The Tigers return nine starters on offense, six on defense and enter 2022 with the nation's longest active winning streak in the Power 5 at six games.
"I mean that's crazy," Swinney said.
The Tigers are now entering the summer phase of their offseason program. Step one is getting healthy after 21 players were out for the spring, followed by continuing to train and get ready for the fall.
"It's a big summer – for everyone," Swinney said. "This is what we call the transformation time of our year. And if we'll put the work in, do what it takes, come August, if the good Lord keeps us healthy, I think we've got a chance to be a really good football team."