Dabo Swinney addresses possibility of Clemson using transfer portal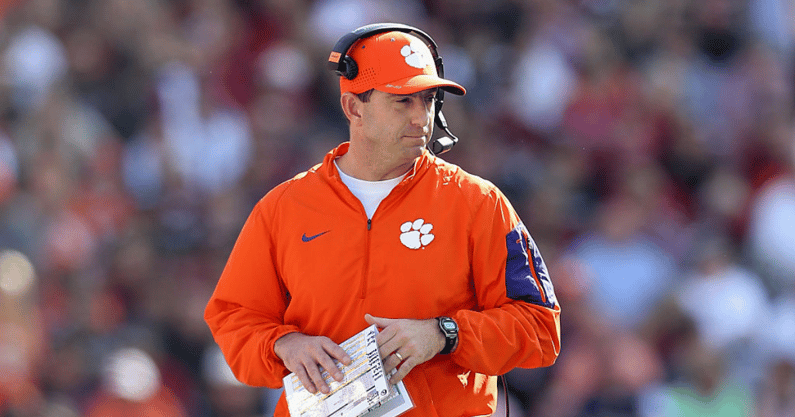 CLEMSON — Dabo Swinney doesn't believe in building his roster through the transfer portal, but contrary to what some believe, the Clemson head coach has no problem going to the portal to fill a need.
Clemson tried to do that on the offensive line last offseason but was turned down by a couple of interior offensive linemen that it went after in the portal.
Still, Swinney made it clear at the time that Clemson was interested in adding an interior offensive lineman to its roster.
"We're gonna very actively pursue somebody in the portal," Swinney said in March. "But it's gotta be the right fit… somebody that fits us, our program, our locker room. And not just a guy, somebody that's an all-conference, multi-year starter type of guy."
Clemson could once again go after someone in the transfer portal this upcoming offseason.
The Tigers could clearly use some help on offense, particularly at receiver.
Swinney was asked Tuesday if he expects to go to the portal in search for help.
"Who knows. We'll see what happens. We're no different than anybody else," Swinney said. "I think everybody's susceptible to transition, but as I sit here right now, I don't know. We'll see."
Clemson could also use some experience on the defensive front and could go to the portal to get it. The Tigers could potentially lose their top six defensive linemen off of this year's team.
Myles Murphy, Bryan Bresee, Tyler Davis, KJ Henry, Xavier Thomas and Ruke Orhorhoro could all end up turning pro. There could also be some players that leave the program and transfer on both sides of the ball.
Clemson has an excellent recruiting class that is currently ranked No. 10 in the On3 Consensus Rankings and Swinney is excited about that group. But going to the portal is also a possibility once the offseason begins.
"We love our signing class. We think we've addressed our needs based on what we know right now," Swinney said. "But again, who knows what's coming down the pipe. Nobody knows that. It's a real-time world every single day where we are right now in college football."