Nick Eason names most improved Clemson defensive tackles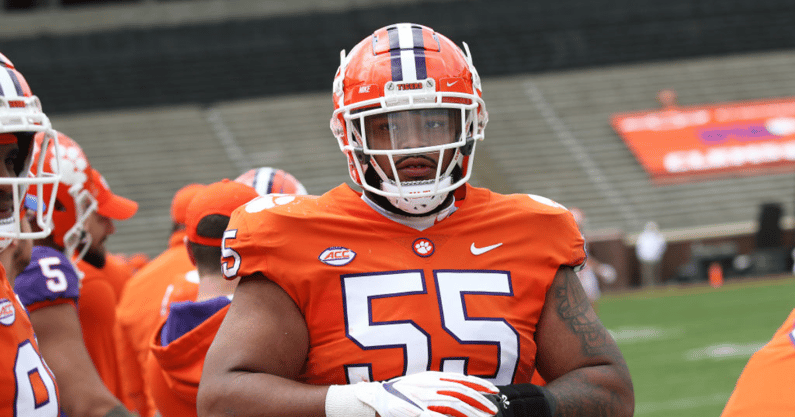 Clemson defensive tackles coach Nick Eason has a talented and deep group to work with.
The former Tigers player, who is now an assistant coach, has been back at Clemson for about seven months, and several players have caught his eye.
With that said, Eason named two defensive tackles in particular who have made substantial improvements since he replaced Todd Bates this winter.
At the top of the list is sophomore defensive tackle Payton Page.
"Payton Page for me had the most improved this spring. I wasn't here when he got here, but I heard he was almost 400 pounds," Eason said. "From the transformation he's made, coming in from last year, and some of the things that I saw on tape, just areas that he needed to improve on, I mean he really stepped up to the challenge."
Page will be a part of the defensive tackle rotation this fall, joining starters Tyler Davis and Bryan Bresee, as well as experienced reserves Ruke Orhorhoro and Tre' Williams.
Others could step up and get into the mix as well.
"He's a guy that's going to be a dominant nose tackle on the inside moving forward," Eason said. "He has all the tools. Very smart, very engaged in meetings. And I'm looking for a breakout year for him this year. But I would definitely say he's the most improved."
The other defensive tackle Eason mentioned isn't likely to be a major factor for Clemson this year, but he is someone who has a bright future.
Redshirt sophomore DeMonte Capehart has been hampered by injuries so far in his career, but he is finally healthy and is making a name for himself.
"Next up would be DeMonte Capehart, who has really come into his own. He's somebody that dealt with a lot of injuries, as well. So I really challenged him this spring to stay healthy," Eason said. "He really went through the spring without really any major injuries. He was able to go out there and get reps, and he got better."
The South Carolina native has the size, speed and athleticism to be a difference maker down the road in his Clemson career.
"He's somebody else that I'm expecting big things of that's going to surprise a lot of people. Because he's got all the tools, man," Eason said. "The kid's 6-5, 310 pounds and moves well. If he just learns to just play with great pad level and execute his technique and fundamentals, he's going to be dominant as well."
Clemson has two of the best defensive tackles in the country for this season in Davis and Bresee.
With players like Page and Capehart waiting in the wings, the Tigers are in good shape for the future, too.
"Those are two young guys I'm really excited about that I think are going to surprise a lot of people," Eason said. "Not surprise me, but they put in the work this offseason."