Dabo Swinney offers insight into why Justyn Ross went undrafted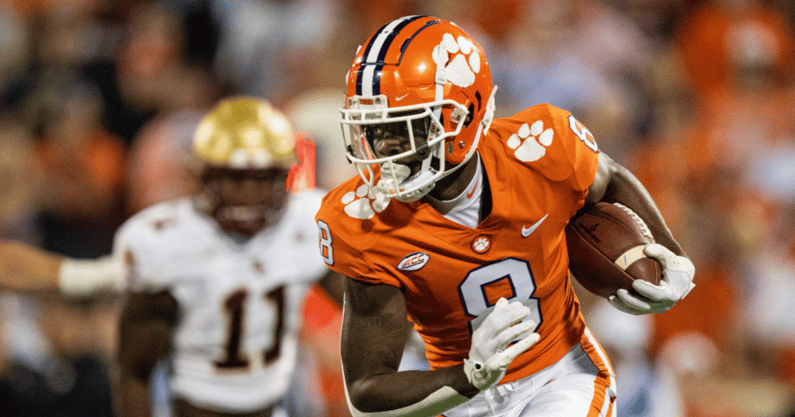 Former Clemson star receiver Justyn Ross went undrafted in last month's NFL draft, which came as a surprise to some.
One person who wasn't caught off guard is Clemson coach Dabo Swinney, who spent the previous four years with Ross.
It's not that Ross wasn't good enough to be drafted, but there were several question marks from an injury standpoint that hurt his chances.
"I knew he could be anywhere from fourth round to free agent," Swinney told reporters at a Prowl and Growl event last week in Columbia.
As it turns out, most front office personnel didn't have the opportunity to draft Ross.
The Alabama native was only medically cleared by four teams, Swinney revealed. Ross dealt with a broken foot his final season at Clemson in 2021 and had a congenital fusion in his spine that was discovered prior to the 2020 season.
Ross ended up missing that entire year and had to undergo surgery as his football career was suddenly in jeopardy.
"I didn't know that only four teams actually cleared him medically. That's a pretty small group," Swinney said.
One of those teams was the Chiefs, a franchise that ended up signing Ross as a free agent. Ross went through rookie minicamp earlier this month and is hoping to become a weapon for Patrick Mahomes, Andy Reid and company.
"He's super excited about the opportunity that he has," Swinney said. "If he stays healthy, he belongs and the rest will take care of itself."
As Swinney said, there's no doubt Ross is talented enough to play in the NFL when healthy.
He burst onto the scene as a freshman in 2018, finishing with 1,000 receiving yards and topping the 100-yard mark in College Football Playoff victories over Notre Dame and Alabama.
Ross followed that up by leading Clemson in receptions in 2019 and helping the Tigers get back to the College Football Playoff.
After missing the 2020 season, Ross played through pain this past year and still led Clemson in receptions and yards, although his numbers dropped.
With that said, if he can get back fully healthy and stay fully healthy, Swinney believes he will have an outstanding NFL career.
"I mean he's Justyn Ross," Swinney said. "There's no questions about Justyn Ross when it comes to playing football. But there's obvious questions when it comes to, 'OK, where is he health wise?' He broke his foot. Obviously he missed all that time with surgical procedures in his neck and back area. He'll do just fine. If the good lord keeps him healthy, football will come easy for him."
Ross is starting his NFL career as a free agent, but he still has an extremely high ceiling.
"He might be the greatest free agent ever if he stays healthy," Swinney said.