DJ Uiagalelei to remain starting QB for Clemson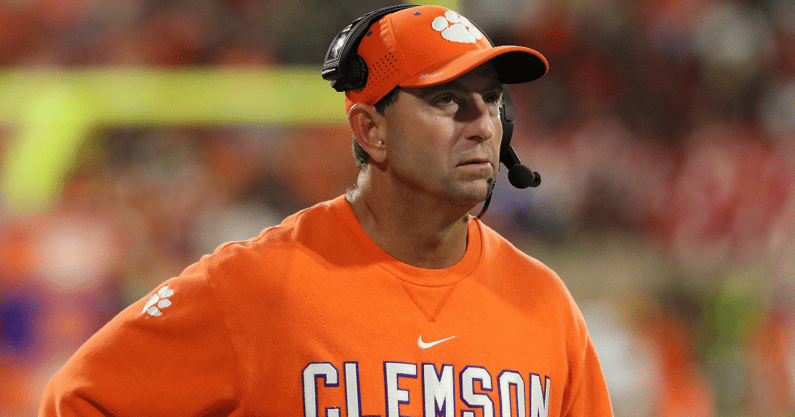 Clemson coach Dabo Swinney has decided on his starting quarterback for Saturday's ACC championship game against North Carolina.
Swinney said during a teleconference Sunday afternoon to preview the ACC title game that DJ Uiagalelei will start for the Tigers against the Tar Heels.
Uiagalelei was 8-for-29 for 99 yards, with a touchdown and an interception Saturday against rival South Carolina. He took every snap, while five-star freshman Cade Klubnik remained on the bench.
"He's still the starter," Swinney said. "He's not the reason we lost the game."
The Tigers did have at least three drops during the 31-30 loss to South Carolina, and the defense allowed nine pass plays of at least 14 yards.
Clemson also fumbled twice on special teams — once on a punt return and once on a kick return.
Swinney pointed to those as the bigger issues as Clemson's 40-game home winning streak was snapped.
"He can't catch it. He doesn't play safety. He doesn't return kicks," Swinney said. "He's got his share of things he can do better, but he will definitely start the game."
Swinney was also asked about Klubnik and how he has developed during practice this season.
Swinney said that Klubnik is "doing good, doing real good" but did not elaborate.
The Texas native is 11-for-22 passing for 98 yards, with a touchdown and an interception in limited snaps this season.
He most recently played earlier this month against Miami, completing both of his pass attempts for 13 yards.
Clemson will play in the ACC championship game this weekend in Charlotte for the seventh time in eight years.
The Tigers won the ACC title in each of their previous six most recent apperances.
After having its playoff chances ended against South Carolina, Clemson will now try to bounce back and win the ACC title.
To do so, it will need Uiagalelei to play better, but it will also need better play elsewhere, as well.
"Certainly DJ had some plays that he'd like to have back, but he was a long ways away from being the reason we lost the game, that's for sure," Swinney said. "He doesn't return kicks and play safety and catch the ball. He can only control his part."