Clemson Wide Receiver U reputation has taken a hit this year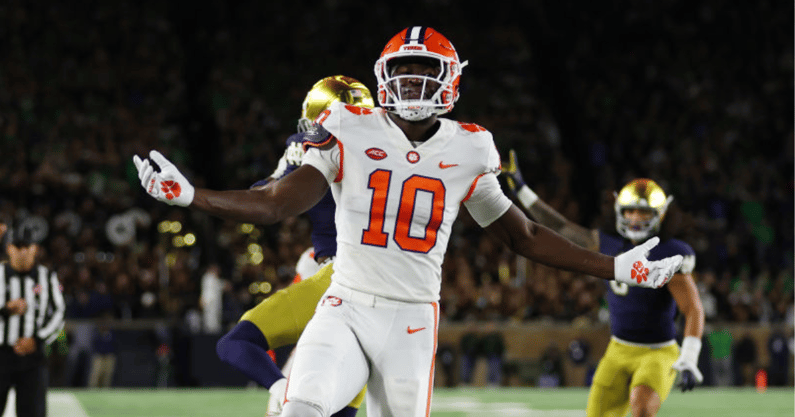 Former Clemson receivers are all over the NFL making plays on Sundays.
Between DeAndre Hopkins, Tee Higgins, Mike Williams and others, Clemson has produced some of the top pass-catchers in the league.
Hopkins, Williams and Sammy Watkins played a big role in helping Clemson to earn the Wide Receiver U reputation. And Clemson players used to even wear shirts in pregame that said WRU.
Unfortunately for Clemson, the Wide Receiver U reputation has taken a major hit over the past couple of seasons.
Freshman Antonio Williams is Clemson's leading receiver this year. The Irmo native has 50 catches for 523 yards through 12 games.
While those are solid numbers for a freshman, the 523 yards is the fewest of any other leading receiver in the ACC.
Wake Forest, which has arguably the best group of receivers in the league, has five receivers with more yards than Clemson's top receiver.
Clemson offensive coordinator Brandon Streeter was asked about Wide Receiver U on Monday and what has happened to the position.
"We have guys that we can really spread the ball around in a lot of different ways. Obviously we haven't been as productive in the passing game, so that's something that we can do a better job of, of finishing on some plays and making the plays at quarterback," Streeter said.
"There's a variety of reasons, maybe, for that. But I do think that our tight end room has been very, very good and we've been able to spread the ball out to those guys. And being able to get our running backs in the passing game a lot more, too, has allowed this offense to be able to spread it out more as far as who's getting the ball."
While Clemson does have good tight ends and running backs, there's no doubt that the receivers have struggled this season, and the issues go beyond simply the ball being spread out more.
Clemson wideouts dropped multiple passes in Saturday's loss to rival South Carolina in a game where the Tigers passed for only 99 yards on 29 attempts.
According to PFF, Clemson's receivers grade out as the 88th best in the country on the year.
While the production hasn't always been there yet, Streeter added that he still trusts the group. The Tigers have two games to get things turned around — in the ACC championship against UNC and in the bowl game to end the season.
"We've got some talented guys, and we're going to continue to trust in those guys and give them confidence," Streeter said.
"It's just a matter of trying to put them in the best position possible and letting them go play the game. And when they make a mistake just move forward. That's really as simple as it is is trying to help them regain their confidence back. … just continue to get better and continue to grow from some of the mistakes or miscues."