NFT will offer Clemson fans unique opportunities to interact with Tigers players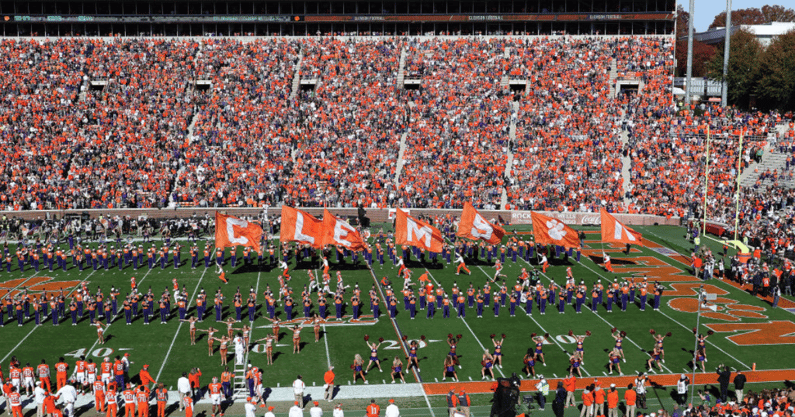 Clemson fans will soon have the chance to interact regularly with some of their favorite Tigers players through The Players' Lounge.
The Players' Lounge was started for Georgia players and fans by a group that included former Bulldogs star quarterback Aaron Murray. It was incredibly successful and is now expanding to other Power 5 schools.
The Players' Lounge says it "connects current and former athletes with their respective fan bases while providing opportunities for student-athletes to monetize their individual brands."
The Clemson portion of The Players' Lounge is called the "Palmetto Cat Crew."
Thus far, 12 current Clemson players are a part of the Palmetto Cat Crew. Two former Tigers are, too.
"This is an opportunity to allow fans to be able to get to meet the players one-on-one and be able to do things with us outside of just seeing us play," Clemson linebacker Trenton Simpson told On3. "Being able to get to know us and talk to us and have events with us there. And then also having access to us through the season."
In order to join the Palmetto Cat Crew community, fans will purchase an NFT for $200. Fans can sign up for a presale here.
The NFT will give fans access to a discord channel where they can regularly message with athletes. Fans will also get exclusive behind the scenes content, access to exclusive in-person events and more.
"There will be group chats and events that will be rolled out throughout the fall, throughout this next season, that hopefully fans, for $200, you will feel like you well exceeded your value," said former Clemson running back Darien Rencher, who is a part of the Palmetto Cat Crew.
"They can ask them questions before the game, after the game, whenever. Georgia did a golf tournament, a tailgate. We'll do a tailgate probably this fall – some other events. This is really NFTs for the 80-year-old fan but also the 10-year-old kid, the high school kid, who is like, 'I get access to Xavier Thomas, KJ Henry. I can get on videogames with them.'
In addition to Simpson, Thomas and Henry, other current players that are a part of the Palmetto Cat Crew include Tyler Davis, Malcolm Greene, Jordan McFadden, Andrew Mukuba, Joseph Ngata, Kobe Pace, BT Potter, Drew Swinney and Tyler Venables.
Rencher and former Clemson linebacker Ben Boulware are helping to lead the group.
"This is another way for Clemson fans and donors to support your favorite athletes through NIL," Rencher said. "You will be supporting players but also getting a real, tangible value out of the access you get like never before."
Simpson emphasized that as someone who had great role models growing up, he is excited for the opportunity to be someone for kids to look up to. He plans to interact with kids on discord and attend in-person events where they can chat with him.
"I think it'll be great. I know a lot of people get a chance to see us on the field and they pay their hard earned money to come watch us play in the Valley. But just being able to shake our hand or laugh with us or golf or run around with the kids a little bit and interact in our community, I think that's going to be a lasting impact on a kid," Simpson said. "I feel like this will have an amazing impact on a lot of people."