Clemson assistant compared to one of best DCs of all time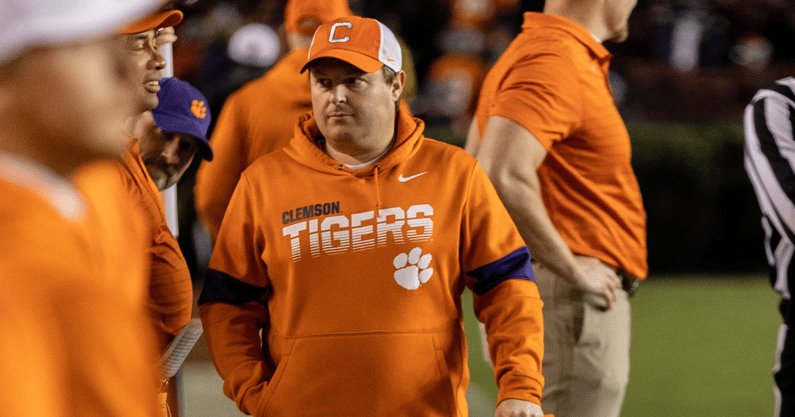 CLEMSON — Nick Eason has been around some great coaches during his playing and coaching career.
Clemson's first-year defensive tackles coach played in the National Football League for 10 seasons and coached in the NFL for seven.
Eason is now back at his alma mater Clemson and working alongside Tigers first-year defensive coordinator Wes Goodwin.
It's fair to say that Eason has been impressed by what he has seen from Goodwin thus far.
"Wes knows the talent we have on every position at every level. He's studied the game. He knows the game. And I love working with him," Eason said. "He reminds me of Dick LeBeau, who was my defensive coordinator when I was with the Steelers. … He's going to put our guys in position to make plays."
LeBeau, who is in the Pro Football Hall of Fame, was an outstanding player in the NFL, before winning a pair of Super Bowl titles as an assistant.
He is known as one of the best defensive coordinators in NFL history, and Eason comparing Goodwin to him is obviously very high praise.
Goodwin was elevated from an analyst role to defensive coordinator after Brent Venables left for the head coaching job at Oklahoma following the 2021 season.
That is obviously a large jump to make, but it's one Dabo Swinney, Eason and others on the Clemson staff believe Goodwin was ready for.
"He studies the game. He loves the game. In his free time at home, he's probably drawing up plays. And I'm not exaggerating," Eason said. "He knows it all. He really takes pride in what he does. He's a guy you want to work for and work with."
The good news for Clemson and Goodwin is that he is inheriting one of the most talented defenses in college football.
The Tigers have a loaded defensive front led by Bryan Bresee and Myles Murphy, an athletic linebacker group led by Trenton Simpson and a talented secondary that features the ACC Rookie of the Year in safety Andrew Mukuba.
With the talent Clemson returns and Goodwin calling the plays, Eason has no doubt that Clemson's defense will have an excellent year.
"I think a lot of times people are just wondering like, 'Who is Wes Goodwin?' But I guarantee you'll find out this season," Eason said. "Me and the rest of the support staff and assistant coaches, man, we're going to do everything in our power to make sure he succeeds by doing our part and having his back."