Clemson knocks off No. 1 seed Virginia Tech, reaches championship game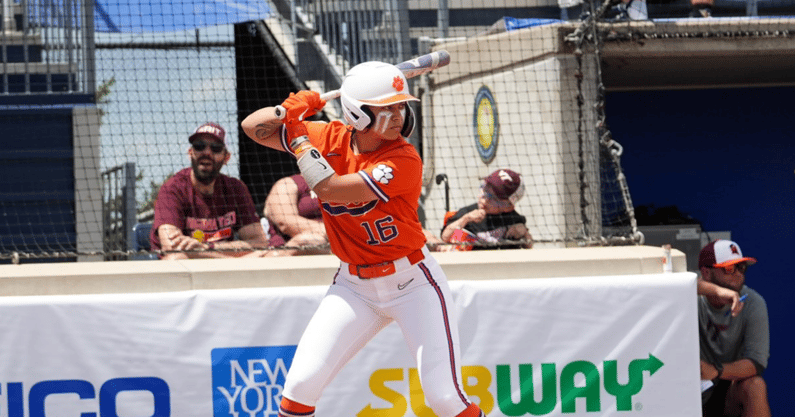 Clemson is playing its best softball of the season at the perfect time.
The Tigers knocked off No. 1 seed Virginia Tech 4-1 Friday afternoon in Pittsburgh to advance to the championship game of the ACC tournament.
Clemson was swept by Virginia Tech in its first ACC series of the season but avenged those losses on Friday with a championship on the line.
The Tigers have now won six straight games entering the ACC championship game. Clemson will face the winner of Florida State and Duke on Saturday for the ACC tourney title.
"Just really proud of the way we came out and competed from the first pitch to the last," Tigers coach John Rittman said. "Just really proud of our team and looking forward to tomorrow."
Tigers star Valerie Cagle had an exceptional start on the mound. The two-way player allowed only one run in seven innings of work to earn the win.
Cagle surrendered only four hits, while improving to 15-7 on the mound.
"It starts in the circle for us. Obviously Valerie Cagle did a tremendous job," Rittman said. "Our defense played phenomenal behind her."
At the plate, Alia Logoleo led the way.
The sophomore went 2-for-3, with both hits being home runs. Her seventh inning bomb was absolutely crushed and pushed Clemson's lead to 4-1. She also gave the Tigers the lead in the second inning with a homer.
"Offensively, Logaleo with a big day at the plate. When she gets hot she sees it like a beach ball, and that was evident today against a very good pitcher," Rittman said. "I loved the way we scratched a few more runs out there."
The other two runs came when McKenzie Clark scored on a throwing error and when Arielle Oda drove in Sam Russ with a sac fly after Russ tripled to lead off the inning.
This is Clemson's second straight trip to the ACC tournament title game.
The Tigers also should host a regional in the NCAA tournament after Friday's win.
"It's one of those things where when the [regular] season was over, we talked about changing gears now and let's shoot for the championship segment," Rittman said. "And the first championship to win is the ACC. So we've given ourselves a great position for tomorrow."