Where Clemson ranks in updated College Football Playoff rankings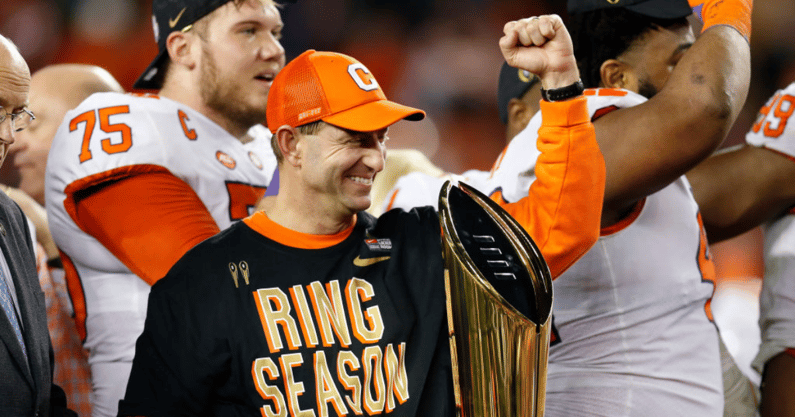 Clemson continues to move up in the College Football Playoff rankings as the Tigers make their case to return to the CFP.
Clemson is ranked No. 8 in the updated College Football Playoff poll, which was released Tuesday night. The Tigers moved up one spot from their No. 9 ranking last week.
Up next, Clemson will host rival South Carolina on Saturday as it tries to continue to improve its resume.
The entire updated top 10 consists of: No. 1 Georgia, No. 2 Ohio State, No. 3 Michigan, No. 4 TCU, No. 5 LSU, No. 6 Southern Cal, No. 7 Alabama, No 8 Clemson, No. 9 Oregon and No. 10 Tennessee.
"Our guys are playing their best ball. They're getting stronger. We've got a clear path. We've got an opportunity to really have a special season from a big picture standpoint," Clemson coach Dabo Swinney said Monday during his call-in show. "There's four undefeated teams and two teams with one loss, so we're one of six teams out there that I think is in a great position. But it's all about finishing."
After facing South Carolina, Clemson has one more game to impress the playoff committee before the rankings come out.
The Tigers will face No. 17 North Carolina on Dec. 3 in Charlotte in the ACC championship game.
Clemson must reach the top 4 to return to the College Football Playoff after a one-year absence. The Tigers reached the playoff every year from 2015-20, before going 10-3 last season.
The Tigers will need to win out and get some help to have a chance to reach the playoff, but coach Dabo Swinney believes it's possible.
Week 13 CFP Rankings
1. Georgia (11-0)
2. Ohio State (11-0)
3. Michigan (11-0)
4. TCU (11-0)
5. LSU (9-2)
6. USC (10-1)
7. Alabama (9-2)
8. Clemson (10-1)
9. Oregon (9-2)
10. Tennessee (9-2)
11. Penn State (9-2)
12. Kansas State (8-3)
13. Washington (9-2)
14. Utah (8-3)
15. Notre Dame (8-3)
16. Florida State (8-3)
17. North Carolina (9-2)
18. UCLA (8-3)
19. Tulane (9-2)
20. Ole Miss (8-3)
21. Oregon State (8-3)
22. UCF (8-3)
23. Texas (7-4)
24. Cincinnati (9-2)
25. Louisville (7-4)