Where Clemson ranks in Athlon preseason top 25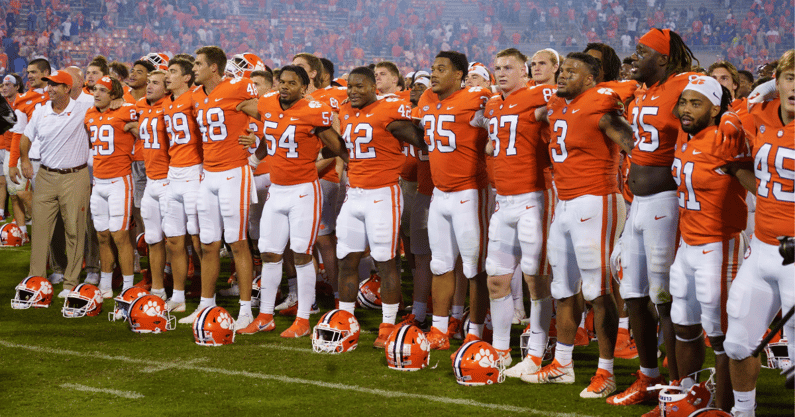 CLEMSON — Preseason polls are continuing to roll out for the 2022 season.
Athlon Sports released its preseason top 25 poll on Wednesday, and it has Clemson back in the top 5.
The Tigers are ranked No. 4 by Athlon.
The publication lists Alabama No. 1, followed by Ohio State, Georgia, Clemson and Texas A&M.
Clemson has four opponents ranked in the Athlon top 25, including No. 7 Notre Dame.
The Tigers also face No. 12 NC State, No. 16 Wake Forest and No. 20 Miami.
Clemson has finished the year ranked in the top 5 of six of the last seven AP polls.
The only year the Tigers didn't finish in the top 5 came this past season when Clemson went 10-3 and finished with a No. 14 ranking.
While the 2021 season as a whole was disappointing, Clemson did win its final six games to earn at least 10 wins for the 11th consecutive year.
Clemson enters this season with the longest active winning streak in the Power 5. Tigers coach Dabo Swinney is hopeful that his team can build off of its momentum from the end of last season as it looks ahead to 2022.
"I think we've got a good football team in the making. As I tell them all the time, we've got the ingredients. We've just got to put it all together," Swinney said. "I think we've got good momentum coming out of spring, good leadership. A lot of the intangibles and the things that you can't really measure on paper or really see sometimes – I think this team has."
Athlon Sports top 25
Alabama
2. Ohio State
3. Georgia
4. Clemson
5. Texas A&M
6. Michigan
7. Notre Dame
8. Utah
9. Southern Cal
10. Oregon
11. Baylor
12. NC State
13. Oklahoma
14. Michigan State
15. Cincinnati
16. Wake Forest
17. Oklahoma State
18. Tennessee
19. Wisconsin
20. Miami
21. Kentucky
22. Arkansas
23. Pitt
24. Houston
25. Penn State