Dabo Swinney wants to see change to early signing period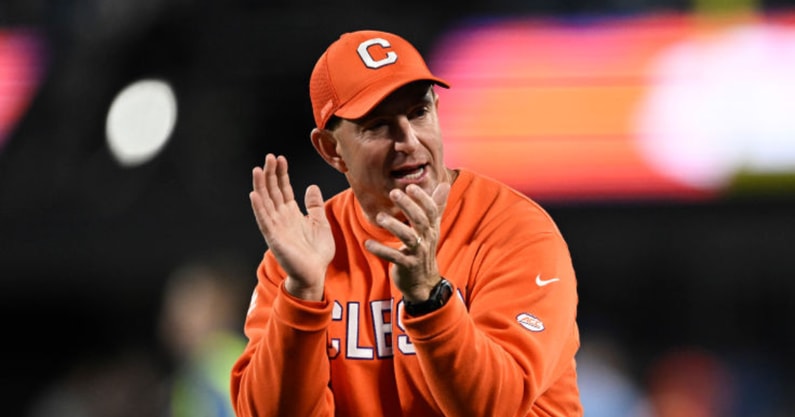 CLEMSON — Signing during the early signing period has become more and more popular for high school recruits since it became an option in 2017.
Prior to that, signing in February was the only choice. However, since 2017, prospects have also had the option to sign in December.
Clemson coach Dabo Swinney is thankful that the early signing period was started, but he would like to see it move up even more.
"I wish they'd let them sign August 1 of their senior year and let them sign any time they want," Swinney said prior to the Tigers' matchup against Tennessee in the Orange Bowl.
In Swinney's eyes, moving up the early signing period would benefit both schools and players.
Schools would have a better idea of what their final signing class will look like and what needs they still have, without having to worry about decommits.
Recruits could lock in their roster spots and not have to worry about a school finding a high school recruit or even transfer portal addition that they might like better.
"Everybody talks about the early signing period, all that. Man, if I'm a high school kid or a high school coach, I'd fight for it to stay where it is or be earlier, honestly," Swinney said. "That would cut out a lot of these offers that you can't commit, number one, and some of these kids would be protected."
Clemson had 26 commits for the class of 2023 and all 26 signed with the Tigers during the early signing period.
According to Swinney, the Tigers commits would have signed with Clemson well before December.
"We just signed a class, all these guys would have signed in the summer if they were allowed to," Swinney said.
The transfer portal gives schools an additional pool of players to choose from and recruit. That is having an impact on high school recruits getting offers — and especially committable offers.
Swinney is in favor of the transfer portal being an option, but he would like to see it tweaked and also see the early signing period moved up.
"You have thousands of kids in this [transfer portal] that used to not exist. Then you have the pressure to win right now," Swinney said.
"There's a lot that's going on, and it's really affected the high school recruiting, there's no doubt. A lot of these high school recruits are either not getting signed or being pushed down, or unfortunately sometimes when that portal opens up, some of these guys that have maybe been committed a long time lose their opportunity."
Signing in August could potentially help that.
"It protects these high school kids a little bit, and again, it makes you be serious about who you offer and so forth as opposed to all of a sudden the portal opens up and some of these guys get pushed aside," Swinney said. "The high school kids are absolutely being impacted by the portal."