Clemson officially hires Erik Bakich as head baseball coach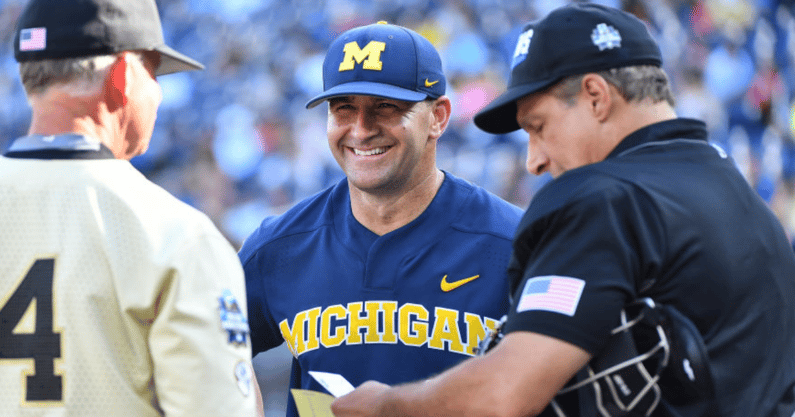 CLEMSON — It's now official — Erik Bakich is the new head baseball coach at Clemson.
Bakich had his contract approved by the Clemson Board of Trustees Compensation Committee Thursday morning. He will be introduced at a press conference Thursday afternoon.
We first reported that Bakich would be Clemson's next head coach Tuesday night.
Bakich's contract is a six-year deal, which starts at $850,000 and goes up $50,000 each year. He will be paid $1.1 million in Year 6. Bakich is also receiving a $400,000 signing incentive.
"Our family is thrilled to join the Clemson Athletics family and immerse ourselves in the local community," Bakich said. "It was an honor to wear the Clemson uniform 20 years ago as a young coach on Jack Leggett's staff. … It is a privilege to serve as a steward of this storied tradition and help lead Clemson Baseball back to prominence competing for ACC Championships, trips to Omaha and our first National Championship."
Bakich comes to Clemson after spending the previous 10 years as the head coach at Michigan. He compiled a 328-216 record while leading the Wolverines program and led Michigan to the College World Series finals in 2019.
Michigan made the NCAA tournament in five of the final seven seasons under Bakich, including falling in the championship game of the Louisville Regional earlier this month.
Bakich will replace former Tigers head coach Monte Lee, who was fired on May 31 after missing the NCAA tournament for the second consecutive year.
Lee spent seven seasons at Clemson, compiling a 242-136 record.
"We are delighted to welcome Erik, Jiffy and their three children back to the Clemson Family," Neff said. "Erik impressed us with his integrity, his approach to running a program and the emphasis he puts into the student-athlete experience. He knows well the expectations at Clemson … I am confident in Erik's ability to compete for ACC Championships and return to Omaha, and do it the right way."
Bakich is returning to the place where he started his coaching career as an assistant at Clemson in 2002. He also spent time as an assistant at Vanderbilt, before serving as the head coach at Maryland and then Michigan.
He takes over a Clemson program that has advanced to the College World Series four times since 2000. However, the Tigers haven't advanced out of a regional since 2010.
This is the first major hire for new Clemson Athletics Director Graham Neff, who took over for Dan Radakovich in December. Radakovich is now at Miami.
Neff was able to secure one of his top candidates from the start in Bakich.