Former Clemson running back headed to the SEC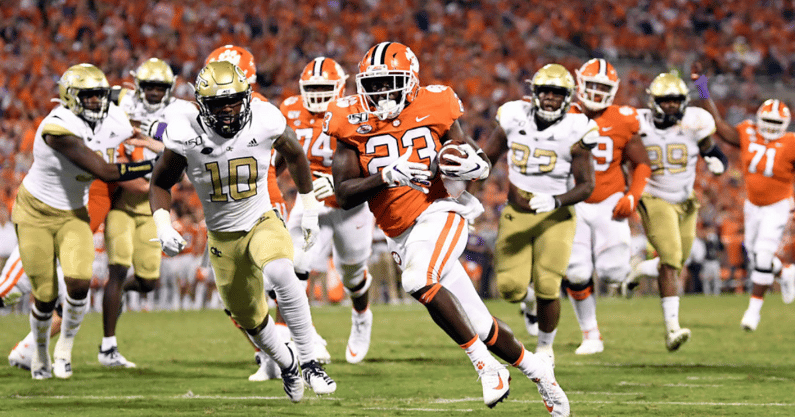 Former Clemson running back Lyn-J Dixon has once again found a new home.
After starting his career at Clemson and spending this spring at West Virginia, Dixon has now committed to Tennessee for his final season of eligibility.
Dixon announced his decision on Instagram Wednesday morning. He re-entered the transfer portal in June, leaving West Virginia at the time.
Dixon spent the first 3.5 seasons of his college career at Clemson, before entering the transfer portal in September for the first time.
He eventually landed at West Virginia but then left the program before ever appearing in a game.
Lyn-J Dixon appeared in three games and made one start for the Tigers last season before entering the transfer portal. He finished with 10 carries for 48 yards in 2022.
Tigers head coach Dabo Swinney made it clear that he was disappointed in Dixon before the Georgia native entered the transfer portal.
"He just needs to grow up," Swinney said in September. "It's that simple. He needs to be a team player. Just grow up. He's a very good player. Obviously he's very talented, we've seen that. But just need him to stay out of [CJ] Spiller's dog house, that's really it."
A former four-star recruit, Dixon finished his time at Clemson with 218 career carries for 1,420 yards and 13 touchdowns.
Dixon was down to a final three of West Virginia, Oklahoma State and Miami prior to committing to West Virginia last November.
He was a part of a crowded backfield early in the 2021 season that included talented underclassmen Kobe Pace and Will Shipley. Dixon and first-year running backs coach CJ Spiller were not on the same page, which played a role in his decision to transfer.
Pace, Shipley and sophomore Phil Mafah will lead Clemson's running back room in 2022.
The Tigers also signed freshman running back Keith Adams Jr., who could be counted on to provide depth right away.