Sights and sounds from Clemson's 'All-In' cookout event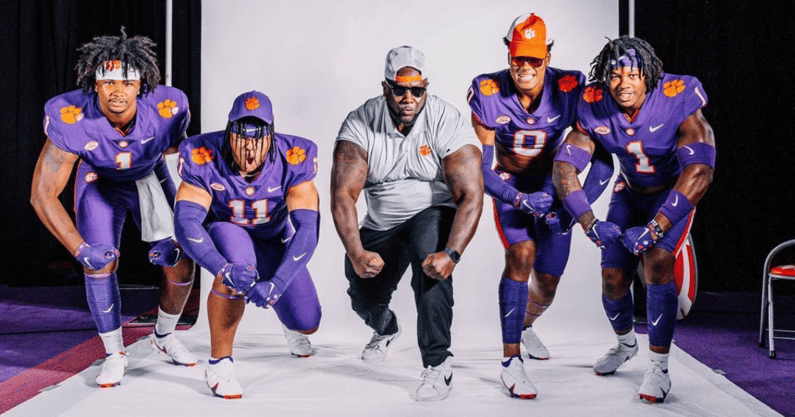 Clemson hosted a group of commits and recruits early last week. The event saw 17 of the 18 commits on campus.
Alpharetta (Ga.) Milton safety Robert Billings was uncommitted at the time but has since announced his commitment to Clemson. Billings had a lot of his family on campus for the visit. He'd already had his mind made up but the visit was big in confirming his decision.
"It kind of helped me gauge if I made the right decision," Billings said after his commitment. "When I was there with all the commits, it felt like a family and a brotherhood. We're a deep class. I feel like me, Avieon Terrell, Branden Strozier and Kylan Webb can make an impact in Clemson's secondary."
We have compiled some of the sights and sounds from that mass visit.
Five-star quarterback Christopher Vizzina enjoys surrounding areas and dons Clemson uniform
Vizzina made the trip from Birmingham a day early. He checked out some of the surrounding areas before heading to campus for the event on Monday.
Vizzina then had the chance to put on the soon-famous No. 17 uniform while posing next to two of his future protectors in Ian Reed and Harris Sewell.
Aveion Terrell sports his brother's old number
The four-star Atlanta (Ga.) Westlake cornerback had the chance to throw on the No. 8 sported by his older brother A.J. Terrell during his Clemson days. He briefly shared a glimpse of his look in an Instagram story.
He wears the number in high school as well. Terrell was one of the first in Clemson's wave of commitments back in June.
Deep defensive line class becomes the 'Justice League'
Clemson's hammered home beefing up their defensive line for the class of 2023. The Tigers have five commits ranked with four stars along the defensive front.
Commits Peter Woods, Vic Burley, Stephyilan Green, David Ojiegbe and A.J. Hoffler posed for a photo with defensive line coach Nick Eason.
Dual sports stars?
A baseball game broke out on the visit.
Hoffler also chimed in.
Burley shows off hops
Businessmen: QB and WR bond