Clemson softball ranked in top 10 of 2023 preseason polls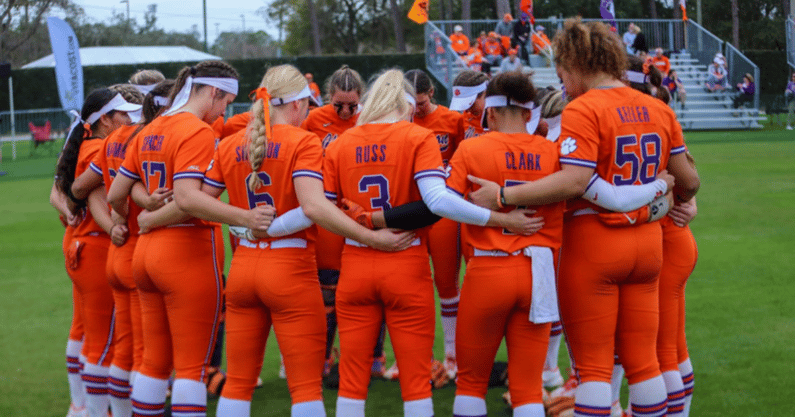 Expectations are once again high for the Clemson softball team after the Tigers reached a Super Regional a season ago.
Clemson is ranked No. 10 in the ESPN/USA Softball Collegiate Top 25, which was released on Tuesday.
The rest of the top 10 includes No. 1 Oklahoma, No. 2 Oklahoma State, No. 3 Florida State, No. 4 UCLA, No. 5 Florida, No. 6 Northwestern, No. 7 Arkansas, No. 8 Alabama and No. 9 Texas.
The Tigers are also ranked No. 10 in Softball America's Preseason Top 25 poll.
Clemson begins its 2023 season on Thursday, Feb. 9 against FIU in a tournament that will be played in Miami.
The Tigers are coming off of an impressive season in which they finished 42-17 overall and advanced to a Super Regional for the first time in program history.
Clemson was 39-15 entering last year's NCAA Tournament and hosted a regional at McWhorter Stadium that also featured Auburn, Louisiana and UNC Wilmington.
The Tigers went 3-0 in the regional and advanced to face Oklahoma State in the supers. Clemson was eliminated after going 0-2 in Stillwater, Oklahoma.
Clemson returns plenty of talent off of last year's team, most notably superstar Valerie Cagle.
The Virginia native was named a first-team All-American in 2022 after hitting .308 with 13 home runs and 44 RBIs.
On the mound, Cagle was 16-9 with a 2.46 ERA. She appeared in 32 games, making 26 starts and led the Tigers with 176 strikeouts in 160 2/3 innings.
Clemson also returns McKenzie Clark, who led the way with a .328 average last season.
Pitchers Millie Thompson and Regan Spencer are also back after impressive 2022 seasons.
Clemson's home opener is scheduled for Friday, Feb. 17 when the Tigers will face Northwestern in the ACC/Big Ten Challenge.
First pitch at McWhorter Stadium will be at 3 p.m. Tigers coach John Rittman can't wait for another season of softball as his team looks to take a step forward and reach its first College World Series in 2023.
Rittman signed a five-year contract extension during the offseason.
"The support and outreach from the community has been outstanding from the moment Clemson announced the addition of softball," Rittman said in a statement. "Clemson athletics, administration and our coaching staff recognize the importance of making our games available to the fans. New in 2023, Clemson will be selling a select number of tickets at the gate on gamedays prior to each home game. This is a great way to continue to enhance the atmosphere we've all grown to love at McWhorter Stadium."