Tigers Today: Clemson preparing to be 'huge target' in ACC play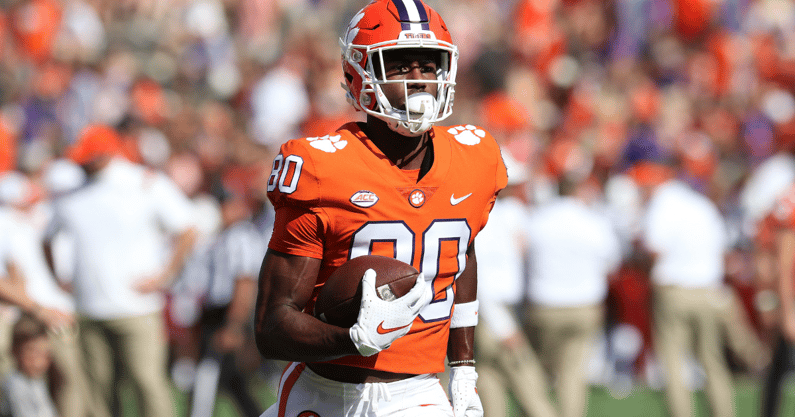 Good morning, Clemson fans, and welcome to Tigers Today. Football will always be our focus, but every day we'll cover news, notes and analysis from across Tigers sports. Join us each morning to get caught up on everything you missed in the world of Clemson football, recruiting, basketball and more in Tigers Today.
Clemson preparing to be 'huge target' in ACC play
Beaux Collins has picked up on what it means to be a member of Clemson's team. The wide receiver made his debut Saturday against South Carolina State, grabbing three balls for 36 yards.
And with ACC play starting this week for the Tigers against Georgia Tech, Collins knows there will be plenty of teams who think they have a shot to knock off Clemson. Especially after the Tigers faltered in the season opener against Georgia, falling 10-3.
"Most definitely, I think no matter who we play, it's going to be like that," Collins said in a Monday press conference. "Even starting this year against Georgia, we had a huge target on our back. Just going through that ACC, there's teams that have had success in the past and feel like they could probably get us this year.
"There's going to be a whole lot of teams that think they have a chance against us, so we just have to stay ready and not play to opponents. Be Clemson at the end of the day."
Collins might only be a freshman. But he came to Clemson to win national championships. And he knows the path begins in ACC play.
Will Shipley named ACC Rookie of the Week
The ACC announced Monday Clemson running back Will Shipley has earned ACC Rookie of the Week honors for his performance in Clemson's 49-3 win against South Carolina State on Saturday. 
Shipley led Clemson with 80 yards on eight carries with two rushing touchdowns on Saturday, becoming the first Clemson true freshman to rush for two touchdowns in a game since Lyn-J Dixon in 2018. 
The last Clemson running back to be honored as Rookie of the Week was Travis Etienne after his performance against Florida State in 2017.
Clemson-NC State game time announced
The game time for Clemson's first road game of the season has been announced. The Tigers will play at N.C. State on Saturday, Sept. 25 at 3:30 p.m., the ACC released Monday morning.
The game will be televised by either ABC or ESPN.
Las Vegas Raiders make surprise decision on Clelin Ferrell
The Las Vegas Raiders made a stunning decision, holding former fourth-overall pick Clelin Ferrell out of Clemson out from the team's season opener against the Baltimore Ravens. 
Ferrell is listed as a healthy scratch for Monday Night Football. 
In 26 appearances, the Clemson product has recorded 65 tackles and 6.5 sacks. His absence on Monday leaves Las Vegas with just three active defensive ends against one of the best rushing teams in the league in the Baltimore Ravens. 
WR Adam Randall is locked in with Clemson, recruiting three prospects
Adam Randall has been taking advantage of every opportunity he's had to be around his future coaches and teammates.
The 2022 wide receiver, who committed to Clemson on Christmas of last year, attended their Elite Retreat in June and the All-In Cookout on July 26.
Randall followed that up by attending their neutral site game against Georgia, as well as the Tigers' home opener versus South Carolina State.
ClemsonSports.com senior recruiting reporter Joseph Hastings spoke with Randall about how his commitment is going, last weekend's visit, who he's recruiting, and more.
Counting down
Clemson at South Carolina: 76 days
Subscribe to ClemsonSports for an entire year for only $10 and receive access to all of our content.