Tigers Today: Dabo Swinney compares road trip mentality to recent Alabama loss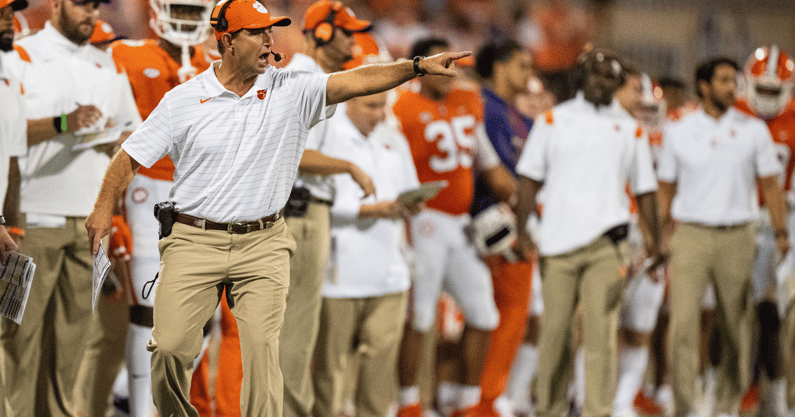 Good morning, Clemson fans, and welcome to Tigers Today. Football will always be our focus, but every day we'll cover news, notes and analysis from across Tigers sports. Join us each morning to get caught up on everything you missed in the world of Clemson football, recruiting, basketball and more in Tigers Today.
Dabo Swinney compares Clemson road trips to Alabama's recent loss
Clemson knows what it is like to be a road favorite and have a target on its back. The Tigers lost earlier this season at NC State, a program which has long been searching for a way to knock them off.
Dabo Swinney has been a favorite more times than not in recent years, which is why when Clemson loses, it sends ripples throughout the college football world.
With the bye week last night, Swinney had a chance to watch most of Alabama's upset loss at College Station. He was asked on his call-in show earlier this week about what it is like for Clemson to be such a huge road favorite for nearly every road game.
"That's the case every week for Clemson," he said. "And that's the case every week for Alabama. That's just the way it is. And to be honest with you I'm thankful for that. That's been built over years of consistency for both of these programs.
"I promise you, when you play Alabama, or when it's time to play Clemson, everybody in the building's going to have their best week of preparation. The janitors are going to have their best week cleaning the building. The secretaries and the people answering the phone are going to have their best week. The people lining the fields, the chefs… that just comes with it. And sometimes, you know, you have to relearn that."
Swinney knows a few things about being on the losing end of an upset, too. The Tigers play at Syracuse on Friday night at the Carrier Dome, where they've had troubles on the road before.
The Tigers lost at Syracuse in 2017, when they were ranked No. 2 in the nation. They were without quarterback Kelly Bryant in the second half as the Clemson rushing attack mustered just 113 yards. The loss snapped an 11 consecutive games win streak, the longest active winning streak in the nation at the time, and 12 straight away from home against ACC teams.
Clemson will be under the microscope again this weekend as a road favorite. Despite struggling at times this season, the Tigers are currently a 13.5-point favorite.
Swinney has made it clear to his team Syracuse will be bringing its best to the Carrier Dome on Friday.

"When you're at a place like Clemson you know you're going to get everybody's very best effort. Whatever their 'A' game is, you're going to get it. It doesn't matter what their record is. They can be 1-9. They can be undefeated. And that's why we talk about all the time. You've gotta prepare. You've gotta play to a standard at a place like Clemson, at a place like Alabama. I'm sure coach Saban's been talking about that all week, the little things, the details. The margin for error is very small. Texas A&M's got a lot of good players.
"Sometimes you can look at a record and say, 'Oh, you know, they lost to this team or they lost to that team' and the media gets involved. And you're just supposed to kill somebody. And it doesn't always work that way. I guarantee you they're a great football team and they'll bounce back. As far as our situation here, that's what we've got this week. We're going on the road to a hostile place, and we've gotta play well. It doesn't matter what anybody's record is. You can throw all that stuff out the books. This is a division game, a game both teams want to win, and the team that wins is going to be the team that earns it through their performance."
With Clemson banged up at receiver, who needs to step up
Clemson obviously needs to be better in the passing game the second half of the season, but getting off to a good start Friday night at Syracuse could be a challenge with the injuries the Tigers are dealing with.
Justyn Ross, EJ Williams and Frank Ladson — three of Clemson's top four wideouts — left Clemson's most recent game against Boston College with injuries. Will Taylor, who was getting some time at slot receiver, left the game as well and is out for the year with a torn ACL.
ClemsonSports.com senior writer Matt Connolly broke down the Tigers passing game and who needs to step up Friday night at Syracuse.
Georgia keeps elite tight end Oscar Delp home
Clemson tight end target Oscar Delp committed to Georgia on Wednesday night. The 6-foot-5, 220-pound tight end from Cumming (Georgia) West Forsyth, picked the Bulldogs over Clemson along with Michigan and South Carolina.
The Bulldogs had his attention early, and he clicked with the coaches instantly, and the No. 86 player in the On300 has committed to Georgia.
"I felt it was Georgia early in September, but I wanted to watch the season, take a few more visits, and make sure before I committed," Delp said to On3's Chad Simmons. "The more I watched Georgia this season, the more it solidified my decision."
Counting down
Clemson at South Carolina: 45 days