Tigers Today: Palmetto Bowl 'part of the DNA of South Carolina'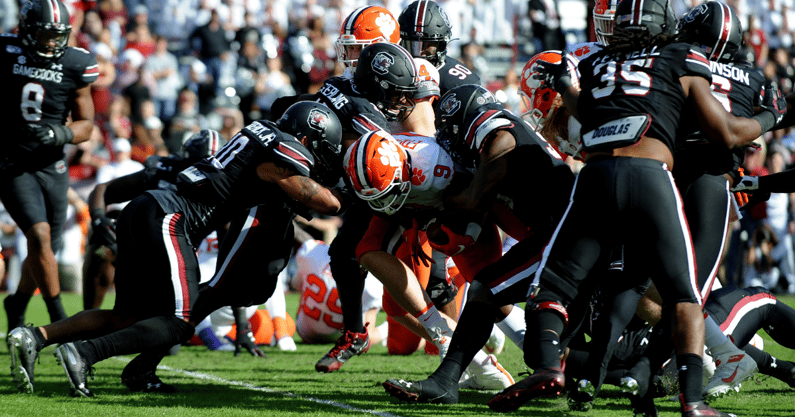 Good morning, Clemson fans, and welcome to Tigers Today. Football will always be our focus, but every day we'll cover news, notes and analysis from across Tigers sports. Join us each morning to get caught up on everything you missed in the world of Clemson football, recruiting, basketball and more in Tigers Today.
Palmetto Bowl 'part of the DNA of South Carolina'
Clemson will renew its rivalry with South Carolina on Saturday for the first time since 2019. Last year's edition of the rivalry was called off due to the COVID-19 pandemic, and this year will have a new flair.
South Carolina has a new head coach in Shane Beamer. The Gamecocks rebuild is a bit ahead of schedule, as they are 6-5 on the season and already bowl eligible.
For the Tigers, the ACC title game picture is now out of their hands. But winning the rivalry game is important to Clemson head coach Dabo Swinney as well as the players inside the program. Clemson has not lost a meeting between the two since 2013, when the Tigers fell 31-17.
This year's edition is back in Columbia. Kickoff is set for 7:30 p.m. ET on Saturday night. Swinney discussed the impact of the game on the Clemson program and what it means to him recently.
"That's one of the things when I came to Clemson I was thankful for, and I learned really quick, 'man, this is a great rivalry,'" Swinney said. "And it means a lot to the people in this state. In this state when Clemson and South Carolina play, it impacts everyone. They're going to talk about it at church, they're going to talk about it at dinner, they're going to talk about it at their Thanksgiving get togethers.
"It's just part of the DNA of South Carolina. It's really fun to be a part of those things. It's better when you win, that's for sure."
Joseph Ngata out for South Carolina game
Dabo Swinney was hopeful that Clemson wide receiver Joseph Ngata would be back for the South Carolina game. He revealed Tuesday morning that Ngata will not.
The Tigers second-leading receiver in terms of yards is still not healthy after suffering a foot injury Nov. 6 at Louisville.
Ngata has 23 catches for 438 yards on the season. The California native is one of several Tigers wideouts banged up. Clemson had seven receivers out last weekend against Wake Forest — Justyn Ross, Ngata, Frank Ladson, EJ Williams, Troy Stellato, Will Taylor and Brannon Spector.
2024 OL Kam Pringle was treated like a priority by Clemson on Saturday
A lot of attention on Saturday — recruiting-wise, that is — was dedicated to the out-of-state prospects on Clemson's campus.
That was deservingly so, but some of the top South Carolina-based recruits in their respective classes also made their way out to the school.
One of them was Kam Pringle, whose previous trip to Clemson transpired back in June. The product of Woodland High School in Dorchester recapped his experience with ClemsonSports.com senior recruiting reporter Joseph Hastings.
Counting down
Clemson at South Carolina: Three days