Tigers Today: 'Exceptional' Will Shipley emerging as top tailback for Clemson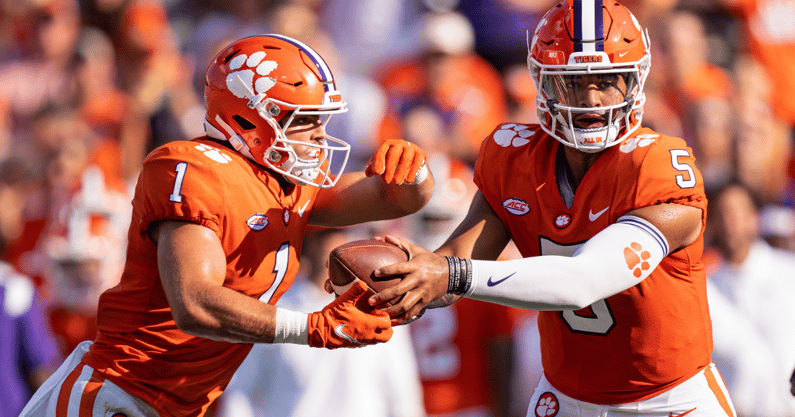 Good morning, Clemson fans, and welcome to Tigers Today. Football will always be our focus, but every day we'll cover news, notes and analysis from across Tigers sports. Join us each morning to get caught up on everything you missed in the world of Clemson football, recruiting, basketball and more in Tigers Today.
'Exceptional' Will Shipley emerging as top tailback for Clemson
At some point this season, Will Shipley was going to emerge as Clemson's primary running back. But the timetable never seemed like it would happen this fast.
The plan has been put on the fast track as the freshman has been handed more carries as Lyn-J Dixon and new running backs coach C.J. Spiller get on the same page. Though two games, Shipley has a team-high 12 carries for 87 yards and two touchdowns.
Sophomore Kobe Pace is not far behind with 11 carries, 75 yards and a score. But Dabo Swinney has been thrilled by the way Shipley, a former four-star recruit, has picked up on the Tigers system.
"Exceptional, he can do anything," the Clemson coach said Wednesday night. "He can run counter, power, zone, inside zone, outside zone. He's got a great feel for really everything, really not anything he doesn't have a great feel for at this stage. He's going to get better and better, but nothing he doesn't have a good feel for."
Clemson always knew Swinney had the talent to be the program's premier back. But the freshman is showing early on the time for that might be here sooner than expected.
Head coach of 2023 QB Arch Manning talks Clemson, return visit timeline
Of all the junior prospects Clemson has offered, arguably the biggest name of the bunch is Arch Manning. Along with the rich football tradition in his family, Manning represents an opportunity for the Tigers to continue adding stellar talent to their quarterback room. 
The top-ranked 2023 recruit on On3 is not one to conduct interviews on a regular basis, but ClemsonSports.com senior recruiting reporter Joseph Hastings did get to catch up with his head coach, Nelson Stewart, on Wednesday.
READ: Head coach of 2023 QB Arch Manning talks Clemson, return visit timeline
Former Tigers linebacker signs with Jets
B.J. Goodson is headed to the Big Apple.
The former Tigers linebacker signed with the Jets on Tuesday. A one-year contract, the deal is reportedly worth up to $2.1 million.
Goodson played at Clemson from 2012 to 2015, finishing with 77 tackles and two interceptions across 28 games. He was selected in the fourth round of the 2016 NFL Draft by the New York Giants.
In five seasons in the league, he has spent three seasons with the Giants along with one with the Packers and Browns. His best season came last season in Cleveland, making 91 total tackles with two interceptions and six passes defended.
Georgia Tech not releasing starting depth chart before Clemson game
Georgia Tech offensive coordinator Dave Patenaude has his plan in place for the quarterback position for Saturday's matchup at Clemson.
But Patenaude and the Yellow Jackets are not releasing any information before the game. Patenaude spoke with the media Tuesday afternoon and did not offer any tips about who the starting quarterback will be.
Click here to learn more about what the Georgia Tech quarterback situation might look like Saturday.
Counting down
Clemson at South Carolina: 74 days
Subscribe to ClemsonSports for an entire year for only $10 and receive access to all of our content.