Tigers Today: Calling off Palmetto Bowl 'didn't make any sense' last year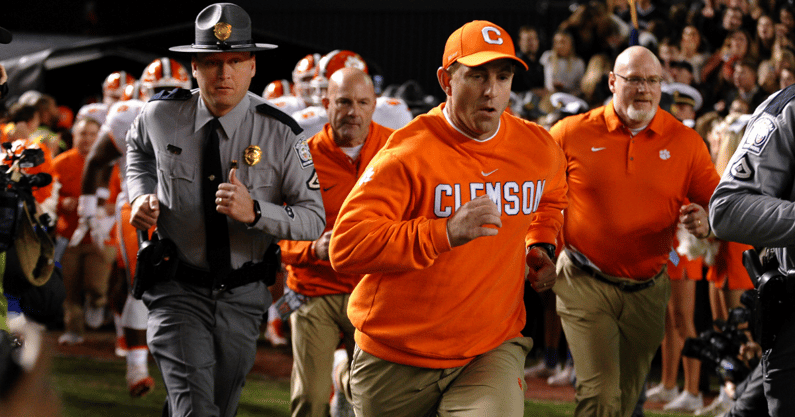 Good morning, Clemson fans, and welcome to Tigers Today. Happy Thanksgiving! Football will always be our focus, but every day we'll cover news, notes and analysis from across Tigers sports. Join us each morning to get caught up on everything you missed in the world of Clemson football, recruiting, basketball and more in Tigers Today.
Calling off Palmetto Bowl 'didn't make any sense' last year
Clemson travels to Columbia this weekend to renew its rivalry with South Carolina. The two teams first met on the gridiron back in 1896, a 12-6 South Carolina win.
The two teams did not meet last year, though. Although under 150 miles away, they did not meet due to the impact of COVID-19. Clemson still traveled to South Bend, Indiana, to play Notre Dame, but the Tigers were not able to make the bust trip to their archrival.
That is just one of the many examples of why last year was so abnormal. But the rivalry will be renewed this weekend at William-Brice Stadium. Clemson has not lost a meeting between the two since 2013, and Kickoff is set for 7:30 p.m. ET on Saturday night.
"We were certainly disappointed because it was a home game and we didn't get an opportunity to play the game at home," Dabo Swinney said this week. "That's a big deal to everyone involved, on the Clemson side for sure. But it is what it is. Both leagues made the decision to go conference only, and it didn't really make sense to me.

"We've gotta go to Notre Dame but we can't get a bus ride up? Just kind of silly to me. When you're dealing with the COVID stuff, that didn't make any sense to me. It felt like there should've been some exceptions out of conference, but those were decisions that the conference people made, and it was disappointing. Because it means a lot to the people in this state. But it is what it is. It was a disappointment for both sides. I'm sure they were disappointed, too."
Swinney was disappointed the two teams did not meet last year. But they will meet again this weekend when Clemson makes the trip to Columbia.
Clemson set to begin construction on Memorial Stadium
Construction on the WestZone Concourse Club and the new video board are scheduled to begin at Clemson Memorial Stadium in the coming days. The project is scheduled to be completed prior to next season. 
As part of the work being done on the stadium, Howard's Rock and its pedestal have been removed from its perch to a secure location. 
Four-star 2023 OL Wilkin Formby details return visit to Clemson
At various points throughout the season, Clemson's offensive line has been heavily scrutinized.
Whether it be a physical mismatch they faced in the season opener, learning curves by younger players, or injuries, the o-line was a talking point most of the fall.
That was not the case on Saturday, however, when they played Wake Forest. With multiple four-star offensive linemen in the crowd, including Alabama product Wilkin Formby, the group had arguably their best performance of the season.
The 2023 prospect caught up with ClemsonSports.com senior recruiting reporter Joseph Hastings to talk about the visit.
Clemson players want to face a 'hostile' environment at South Carolina
Clemson linebacker James Skalski has played two games against South Carolina at Williams-Brice Stadium in Columbia.
One came in 2017 when nearly 83,000 fans (mostly Gamecocks) attended a night game at Carolina. The other came in 2019 when there were about as many Clemson fans as USC fans in the bleachers for the noon kickoff.
Skalski enjoyed one of those environments much more than the other — it might be a surprise to learn that the raucous crowd full of South Carolina fans was his favorite.
ClemsonSports.com senior writer Matt Connolly broke down the environment Clemson is walking into on Saturday.
Counting down
Clemson at South Carolina: Two days